17 May 2022
Reading time: 4 min
7 views
How did Coronavirus affect interior design
17 May 2022
Reading time: 4 min
7 views
A little about something painful, but relevant to each of us: about how the interiors of apartments have changed during the pandemic. What's new in design, planning solutions and even in choosing a palette. After all, a radical change in lifestyle for several years could not but affect the atmosphere and arrangement in the house.
We have started to spend more time at home than before. And the space has become more functional, more suitable for different types of activities including work.
Work from Home
Somehow, very quickly, work moved from office space to houses and apartments. At first it was a tough forced measure. But after the easing of quarantine, many employees continued to work from home, a full week or part of it — two to three days. It has proven to be convenient and possible for many professions.
Work from home suggests the creation of a full-fledged workplace, functional zoning of the premises and the allocation of a working corner or mini-office. And the work space is one of the trends that will be with us for a long time. When planning interior design, the availability of a workplace is now taken into account, since working at the kitchen table is not a very convenient and not a long-term option.
In case of small room, the working space is organized in the following ways:
On the balcony. An insulated closed balcony is a great alternative to a small office.
With the help of furniture-transformer. This is the way out if the room is very small or if we are talking about a studio.
An enlarged window sill as the basis of the desktop, functional and good lightened.
An interesting detail is the design of the background behind the workplace. Most meetings and workshops take place on Zoom, so designers are commissioned to design stylish and beautiful background against which to meet with colleagues online.
Additional amenities and functionality
More time at home — more comfort in everyday life, which is natural. Multi-level lighting that allows you to work, relax, read a book and play with children in the same space without interference. Attention to engineering systems: good sound insulation is important if the whole family has gathered at home and has an active lifestyle. A high-quality air conditioning system — since all family members are at home in any weather, and in hot weather you can't hide in the coolness of office space. In a word, the convenience of every little thing.
Space division
Another interesting new trend is the desire to divide and delimit space. Instead of one common area that unites the kitchen, living room and, possibly, the bedroom, there are several parts of the room delimited by partitions, even small ones. In small rooms, mobile screens or glass, slatted partitions are used, which let in light and at the same time give a sense of isolation.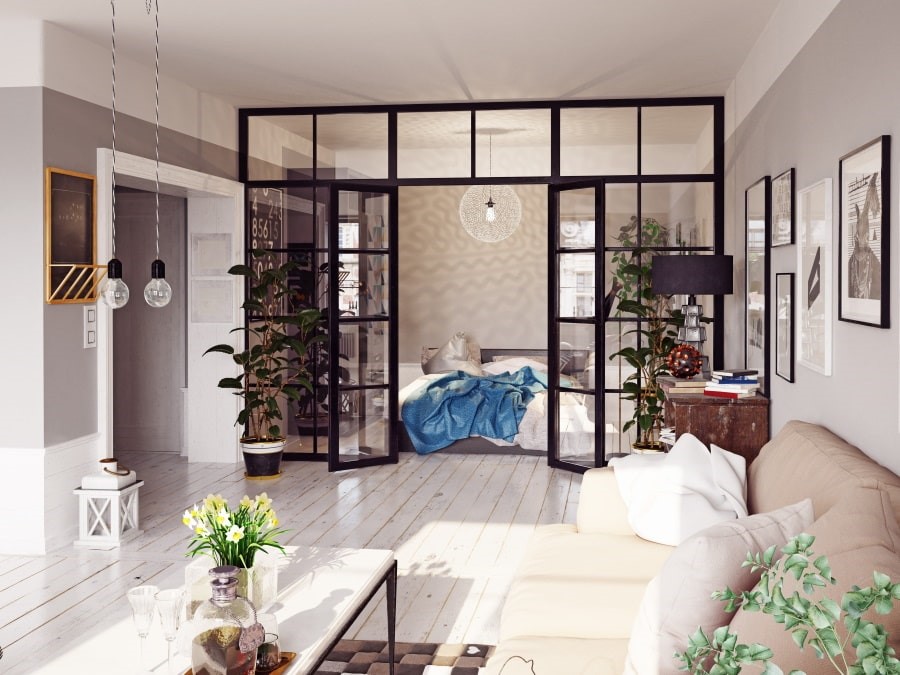 Relaxing shades and tactile comfort
Soft natural tones that do not irritate the eyes are a common trend. As well as tactilely pleasant finishing materials and comfortable textiles. Soft, textured, lush — something that soothes and relaxes. And in the era of coronavirus, this is so important, isn't it?
For instance, a few decorative pillows made of natural fur on the sofa, and you can bury your hands or face in them. This is a godsend for kinesthetics, they will be truly calmed by the touch of fluffy, pleasant to the touch fur. Products made of wool or fur are useful for well-being, have a positive effect on the nervous system.
Decorative pillow «Otero» has a delicate creamy shade and luxurious material — lush merino wool.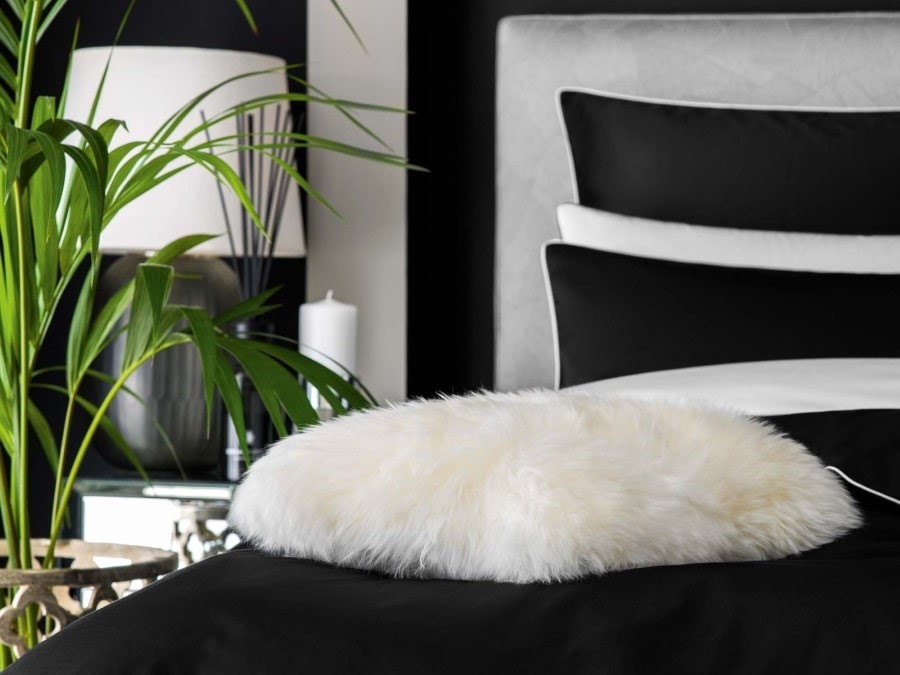 Another comfortable model from Togas made of fluffy merino fleece is the «Libert» decorative pillow in muted gray. The fleece is dyed using the degrade effect, which creates an original transition of shades of the gray palette.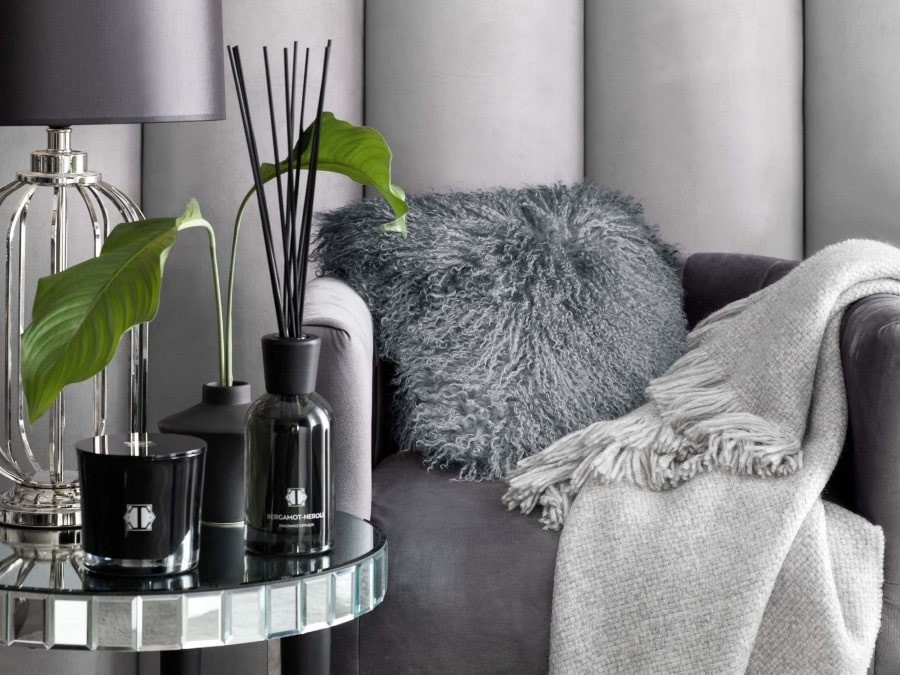 For those who love knitwear with large embossed knitting there are new items: decorative pillows «Landry» and «Katona».
«Landry» is a real English style with characteristic patterns — knitted pigtails and rhombuses. This knitting is of ancient origin and resembles ancient Celtic ornaments.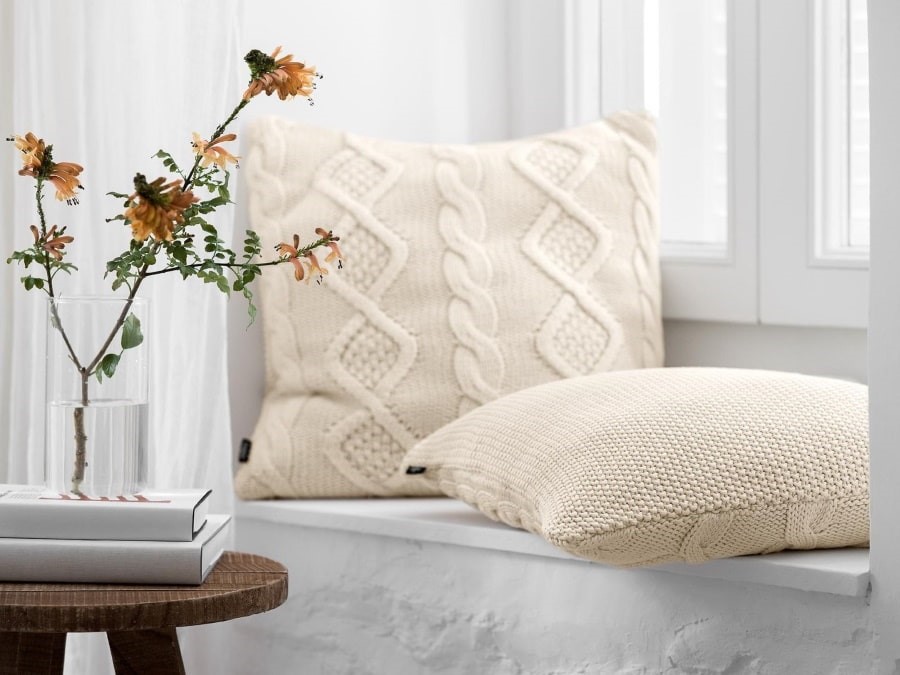 The pattern on the «Katona» pillow resembles a chess pattern created by hand with knitting needles, or a very large expressive weaving «under the matting».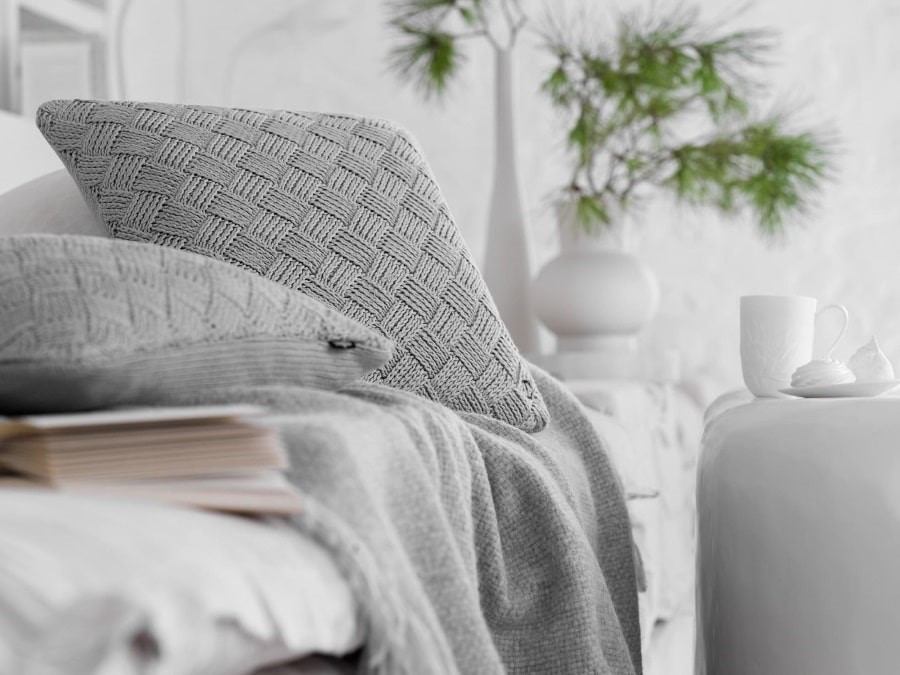 Such knitted products can be called a symbol of home coziness and comfort; they create a special calm atmosphere in the room. Soft cotton pillowcases are pleasant to touch with your hand.
The interior trends of several years of the pandemic as a whole are the desire for convenience and functionality in every room, but not only. It is also a craving for something cozy, relaxing, something that will give peace of mind in the home walls, as opposed to the harsh and unpredictable world outside the window.