Monochromatic interior is not boring at all
18 May 2022
Reading time: 3 min
16 views
18 May 2022
Reading time: 3 min
16 views
Are monochrome interiors boring? Not at all. If you imagine a white room with white furniture that resembles a hospital room, then this is not the setting. Properly «assembled» monochrome interior will be attractive and elegant. And most importantly, creating just such an environment, you are less likely to make a mistake than if you used complex color combinations and unexpected combinations.
How to create a monochrome that is not boring?
1. First, don't use one single color. Choose the main shade and match it with a palette of similar, related tones. This will turn out a room decorated in one scale (for example, beige or gray), but there will be no feeling of monotony and boredom. For example, the walls can be a warm creamy shade, and the furniture is darker — beige, textiles from the same range, but already a shade of latte coffee.
An example of a gray bedroom design by Togas. A shade of gray mist or a pearl gray, diluted, almost white, shade of the walls will complement the «Simon» jacquard bedspread in silver gray. The fabric with the effect of crinkle is interesting, looks unusual and will look organic in a room decorated in a modern style. This lightweight cotton throw can also be used as a daytime cover.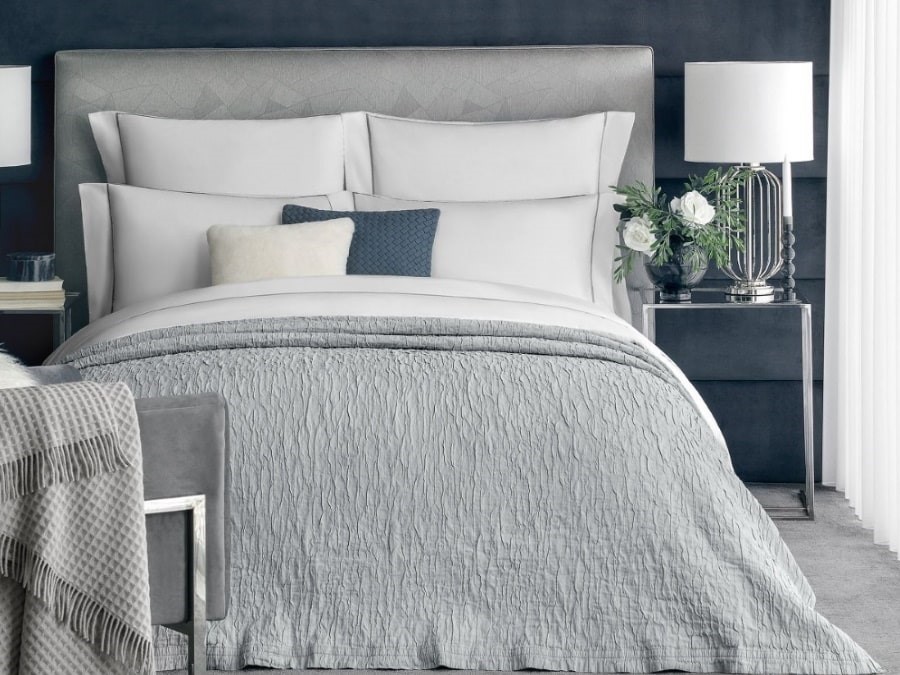 A slightly darker gray tone of the window decor is the color of the «Stocklin» curtains. These are laconic plain curtains with a texture similar to woolen fabric, which well protect the room from the sun's rays. They are made of a special three-layer light-absorbing blackout material.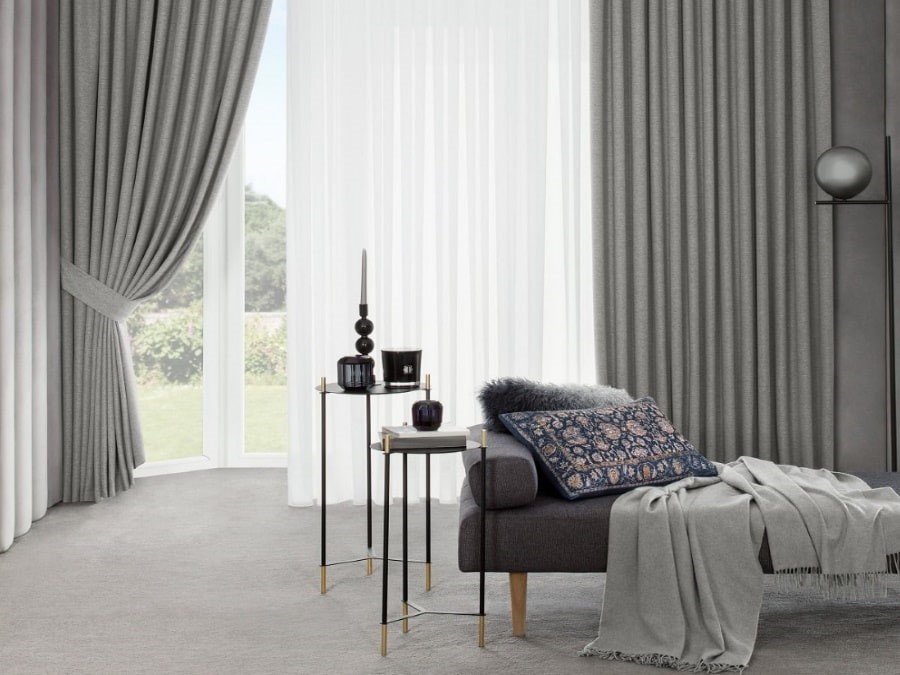 2. Play with contrasting colors, unusual textures. Create different textured surfaces in the room.
For example, in a white living room, in a cold Scandinavian style with light furniture and white walls, you can use this technique. One wall is decorated with rough, embossed decorative plaster, stone, slats or white brick. A brick wall will become a clear accent in the interior. Despite the white color, the spectacular texture will create a feeling of heterogeneity and even different shades. Such a room will definitely not be boring.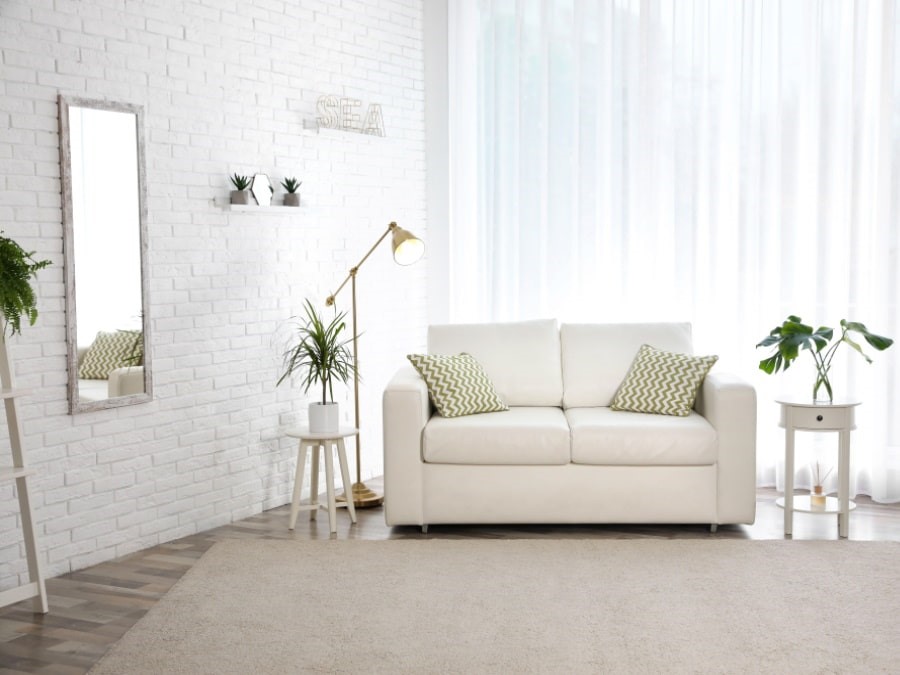 An interesting piece of decor in such a living room is lush fur decorative pillows that will stand out on a light sofa or armchairs. Decorative pillow «Otero» in a creamy shade is made of long, fluffy merino wool. Pillows made of lush natural fur look spectacular in any room. In addition, they are pleasant to the touch.
3. Mirrors and light. Mirrors not only visually change the space — they create volume and expand a narrow room, fill it with light. One large mirror or several small decorative ones will remove uniformity, they also refract light, sometimes creating unexpected and interesting spatial effects. And by the way, about the light. It can also add interest to a room by emphasizing a raised accent wall or highlighting some interesting details in the interior. Many different fixtures, multi-level lighting, outdoor spotlights, backlighting curtains and paintings — all this will affect the image of your home.
A monochrome interior will not be boring, like, say, bold pop art with its bright, acid colors or original kitsch with a strange, sometimes discouraging combination of objects in a room. It can be diluted with different decor, posters, fresh flowers, periodically changing the design elements. And every time it will be a new interior image.