New Year's Eve Décor for Living Room
15 December 2022
Reading time: 4 min
0 views
19 December 2022
Reading time: 4 min
0 views
New Year's Eve, the fresh citrus cheer of tangerines, a dazzling Christmas tree and delicious treats on the festive table... It's time to prepare for the merriest of holidays, to create a mood with Christmas decorations in your room. And since we usually celebrate in the living room, let it become your centerpiece with its delicious food and gorgeous serving.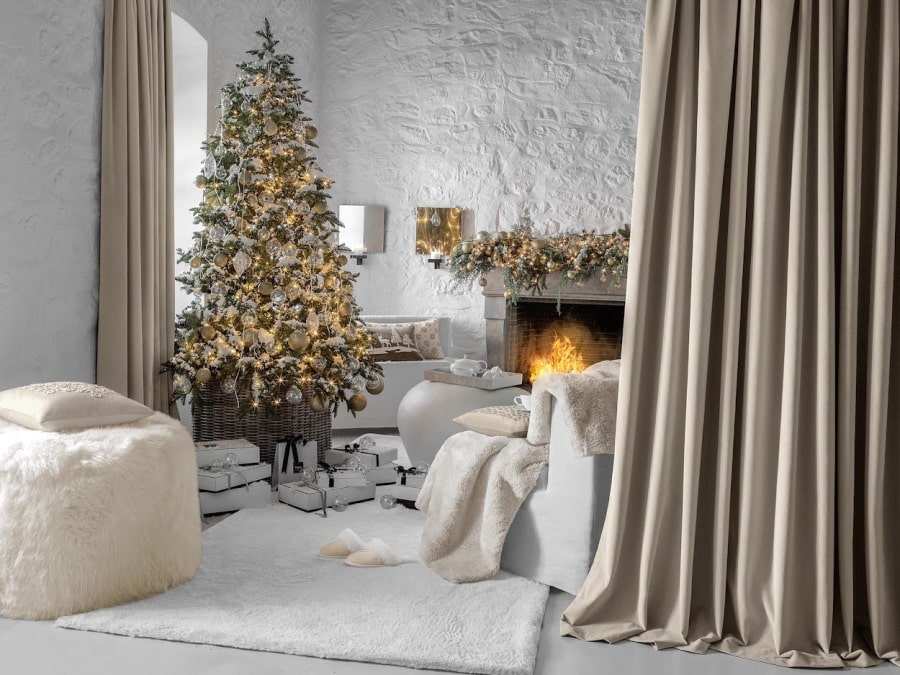 Beautiful dinnerware
You can't go wrong having exquisite porcelain dishes, crystal glasses and candles in crystal candlesticks on your Christmas table. White porcelain plates complement the brightness of New Year textiles, anchored around the traditional red tablecloth. Snow-white porcelain dinner plates "Baglioni" accented with a glittering 24 karat gold border is the right choice for an elegant dinner. The gold border on the plates helps create a magical atmosphere by shimmering in the Christmas lights.
Our "Fiore" collection is a delicate porcelain set for a festive mood. In addition to a gold border, it is adorned with an exquisite pattern in light blue winter hues.
Crystal ware, shining and sparkling in the evening light, are charming eye-catching pieces to make every holiday day special. Crystal glasses with slender and elegant stems offer an exquisite and delectable champagne drinking experience. While the design of handmade champagne and wine glasses "Roanna" have both grace and sophistication. The shape of each glass is reminiscent of a half-opened flower bud. The legs of the glasses are twisted into a complex spiral, their rotation creating an optical illusion of movement, as if the glass comes to life in your hands. The fine ornate stem looks like a work of art, the jewelry work of the glass blowing artist.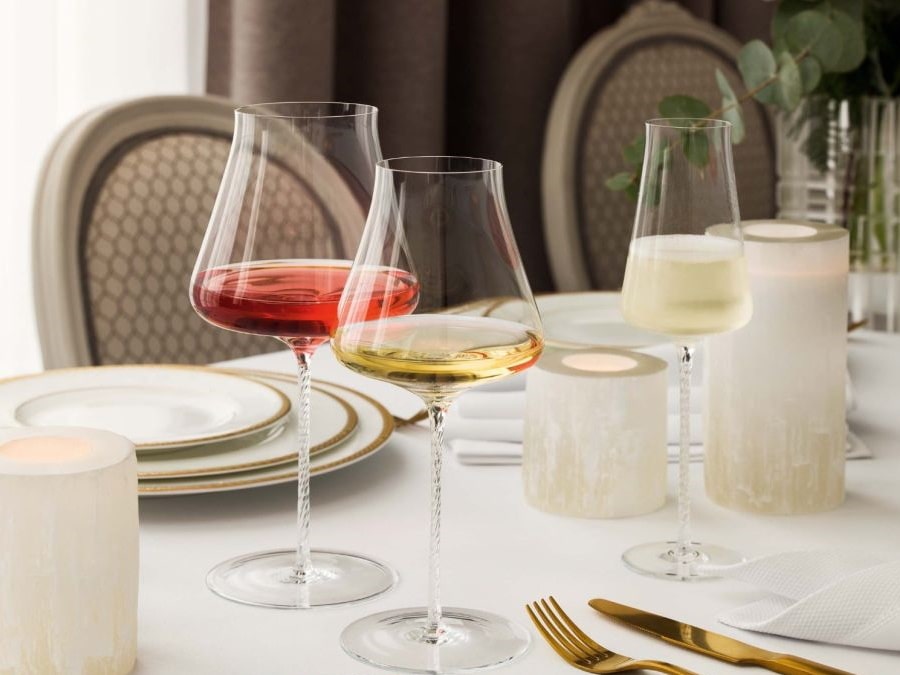 Crystal napkin rings are eye-catchers that add a touch of high class to your dining table. They can perfectly complement crystal glasses and accentuate the brightness of red or gold textile Christmas napkins. Our fine-cut round rings "William" boast an exquisite look and impress with their crystal shimmer.
Textile items and décor
You can always go along with some traditional Christmas décor ideas: a few winter decorations on shelves: balloons, candles, Santa Clause and angel figurines, sparkling lights on the windows. Adorn your table with baskets with balloons, candles and pine needles, a small live decorative Christmas tree, a transparent vase or glasses filled with colorful beads.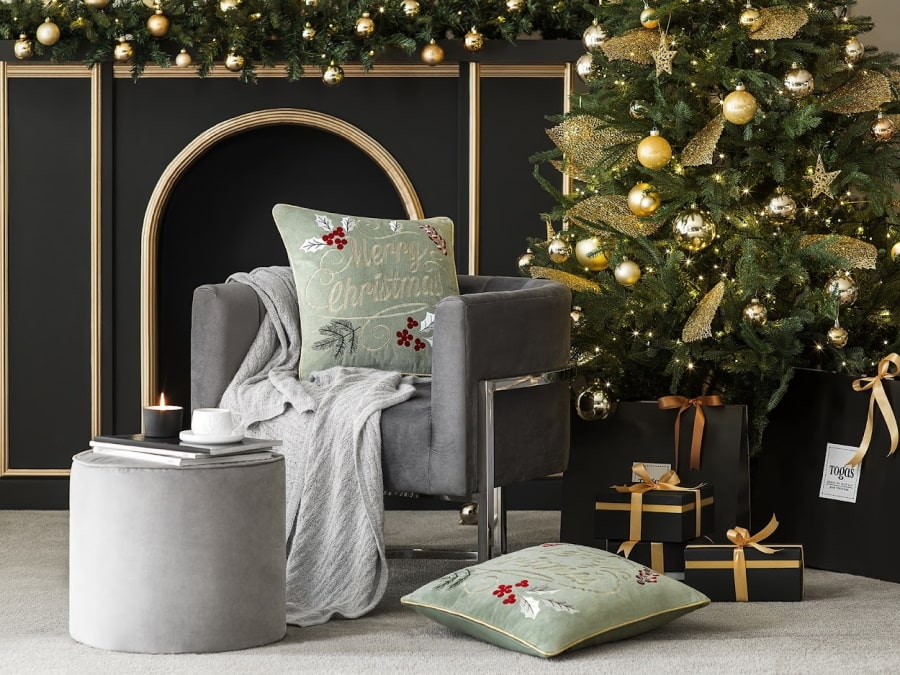 Your dinner table can acquire a real magical glow if you add a few festive touches with some crystal candlesticks, creating a special New Year's Eve atmosphere. The shimmer of crystal facets in candlelight, complemented by the glitter of Christmas lights, creates a spectacular, slightly magical vibe, enjoyed not only by children, but also by adults.
The Togas collection has several types of hand-blown crystal candlesticks with facets made on a special machine to accentuate the crystal luster. For example, our cube-shaped "William" candlesticks in different sizes complement each other on a table or mantelpiece. Exquisitely crafted, handmade "William" candlesticks in snow white make a heaven match with these candlesticks.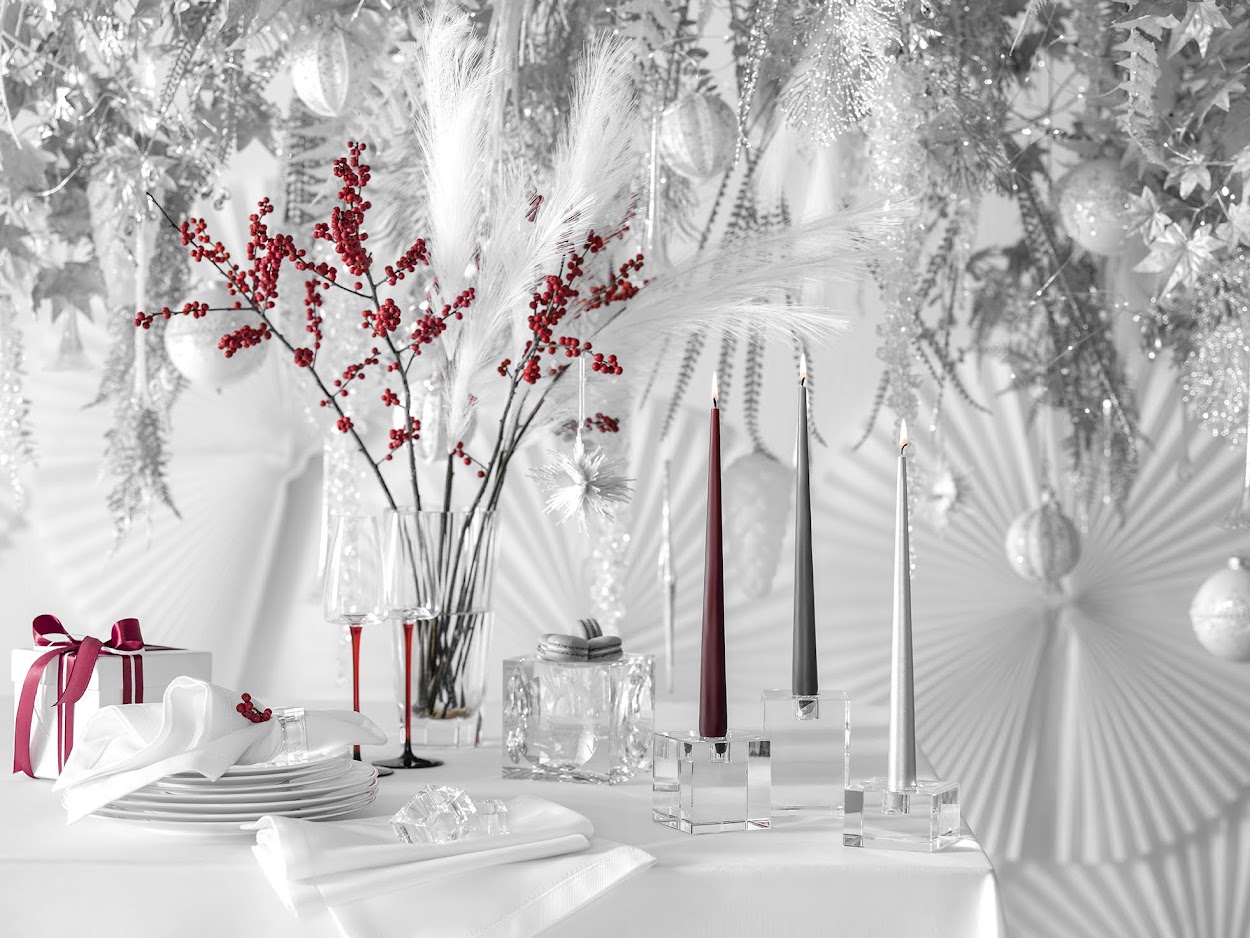 If there is a mirror hanging in your room, anchor garland lights to your mirror, creating a simple and very dressy effect. The lights will be reflected in the mirror's smoothness, amplifying its shine.
Or how about placing a gorgeous handmade seashell-shaped candy dish "Duran" on your coffee table? It is covered with a gold plating on the inside that shines and enhances the sparkle of New Year's Eve lighting, reflecting the twinkling of the garlands. A few delectable chocolate candies in this gorgeous plate are meant to keep your guests and kids happy.
How else can you decorate the living room? Chances are your living room is dominated by a large sofa or several chairs that can be used for a few accent cushions with New Year's ornaments and drawings. Colorful Christmas cushions embroidered with beads sparkling in the evening light are striking eye-catchers that boost the mood. Children can stretch on these cushions and put them near the fireplace. A few intriguing Christmas models from Togas – cushion "Ortiz" featuring New Year's balls embroidered with beads and velvet models "Turris" and "Kapelos" made in a warm coffee and cream color scheme and decorated with gorgeous handmade embroidery. They will play with the brown hues of the furniture, calm shades of modern interiors, elevating the décor in your room.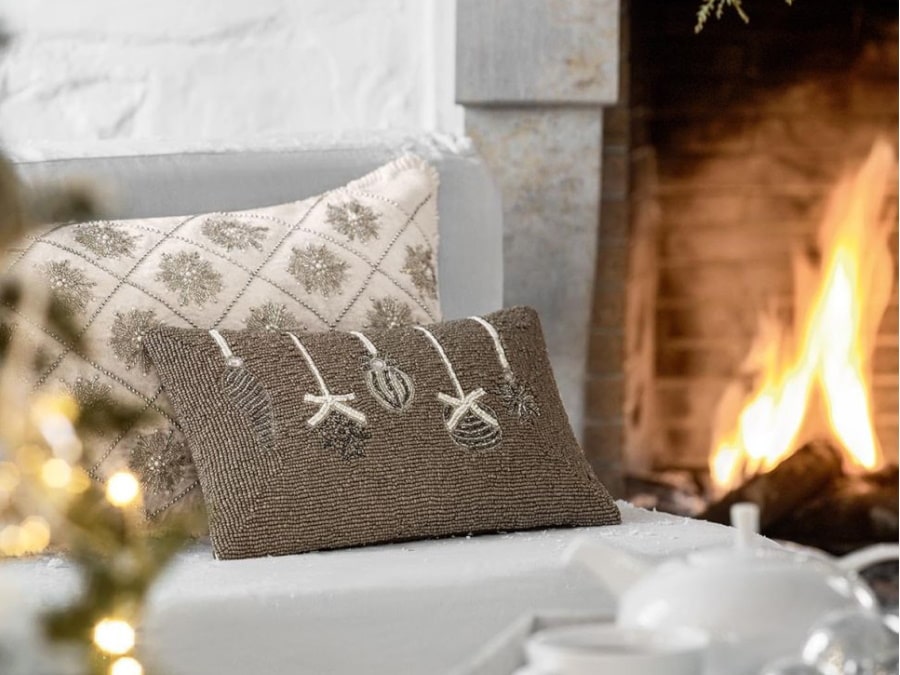 And what if you're looking to buy the right fragrance to set the New Year mood? Place a "Gingerbread" scented candle on a shelf in your living room, filling it with a sweet, delectable gingerbread scent. It will mingle with the fragrance of tangerines and pine if there is a live spruce in the living room and evoke those childhood memories when you were enjoying hot, sumptuous cakes and tangerines for New Year's Eve.