How to Choose a Bedspread: Picking the Perfect Bed Cover | Togas
22 November 2022
Reading time: 5 min
14 views
7 December 2022
Reading time: 5 min
14 views
Bed covers protect your bedding from dust, stains, and sunlight. They are also good at hiding storage boxes under the bed. At the same time, if you got the right bedspread, it will enliven your bedroom, complementing the color scheme of the textile items, furniture and wallpaper, or vice versa, add pops of color to the room, an instant eye-catcher due to its fit, original prints or striking contrast of colors.
If you are tired of the present décor in your bedroom, yet you don't have any makeover or furniture replacements in the works, just pick a new bed cover with a distinct style and your interior will transform itself.
Choosing your thing
When you buy a bed cover (or any other textile item), play on the dominating style of your interior and the color scheme of your bedroom. Interior design styles dictate the style of your bedspread. Classic models with intricate patterns like paisley and damask, golden embroideries or frills are less likely to fit in a minimalist contemporary interior with its succinct lines and low-key color scheme.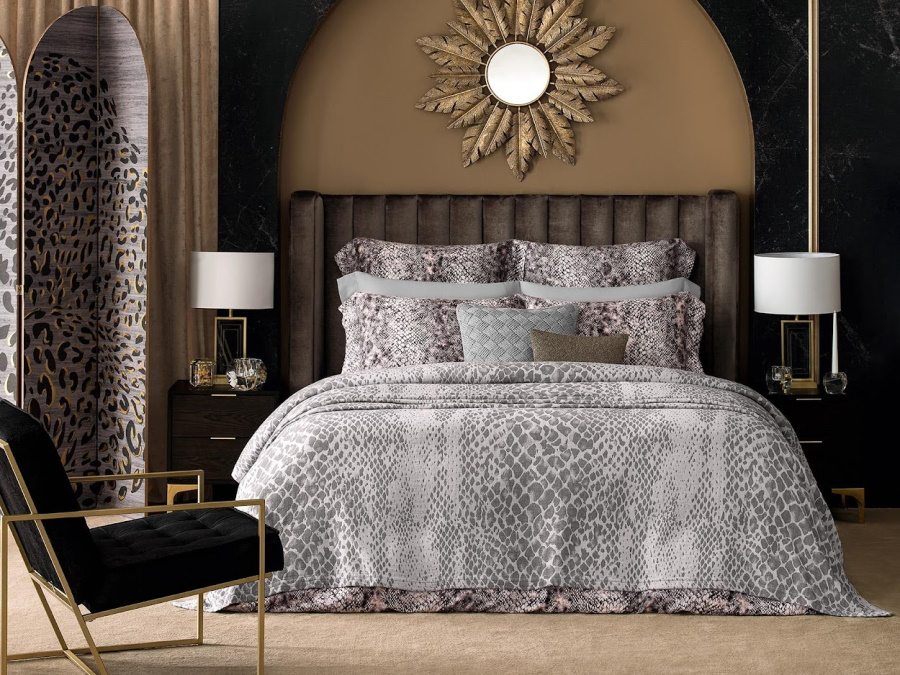 Bedspread Selisa
A rustic country cottage with dark panelled walls, stone fireplace and frills on a shade goes well with cozy patchwork models. Such textile choices create a distinctly homely rustic vibe.
What color do you pick for your bed cover? As a rule, stick to the hues in your bedroom, blending it right with the curtains, walls and furniture. Why not choose the same color palette and a fabric a few tones brighter than the color of the walls to create a strong anchor. If your bedroom features wallpaper with colorful patterns, just pick a solid color model.
Some more options to consider:
A bed cover with an original ornament can be an unusual eye-catching anchor against the neutral background in your bedroom. For instance, items with punchy floral prints or pop art abstracts in Mondrian style.
A bed cover set that comes with curtains can create a tasteful contrast with neutral walls. These are not necessarily pops of color, your textile products can look striking with quirky patterns or raised texture. "Kyoto", a bed cover and curtains set, create such an image with sophisticated embroidery in the chinoiserie style. The fabric stylized as gorgeous Chinese silk sends us to a blooming garden with birds on the branches. The interweaving of gold threads into the Kyoto pattern gives it an elegant look. It will transform your bedroom, adding some Oriental mystery and plunging its inhabitant to an atmosphere of chinoiserie chic.
A bed cover that doesn't go with curtains but plays off some decoration in the bedroom — accent wall or original posters on it. An author pattern or its elements on the accent wall (for instance, large geometric figures or plant patterns on wallpaper) repeating on the fabric will create a single landscape in your bedroom. Here's an intriguing solution — a charming ensemble of a bedspread featuring a floral pattern and posters stylized as a botanical engraving.
What about kids' textile products? They are supposed to be easy-care, come with natural materials and prints that kids will go crazy about. What color of bedspread do you choose for a kids' room? The decor in a baby's bedroom favors textile items in pastel hues. If you have an older kid — go for bolder, punchier patterns (fairy tales characters, flowers). A teenage room works with a completely different color scheme, often you will find rebellious, brightly colored, neon, quirky tones and undertones.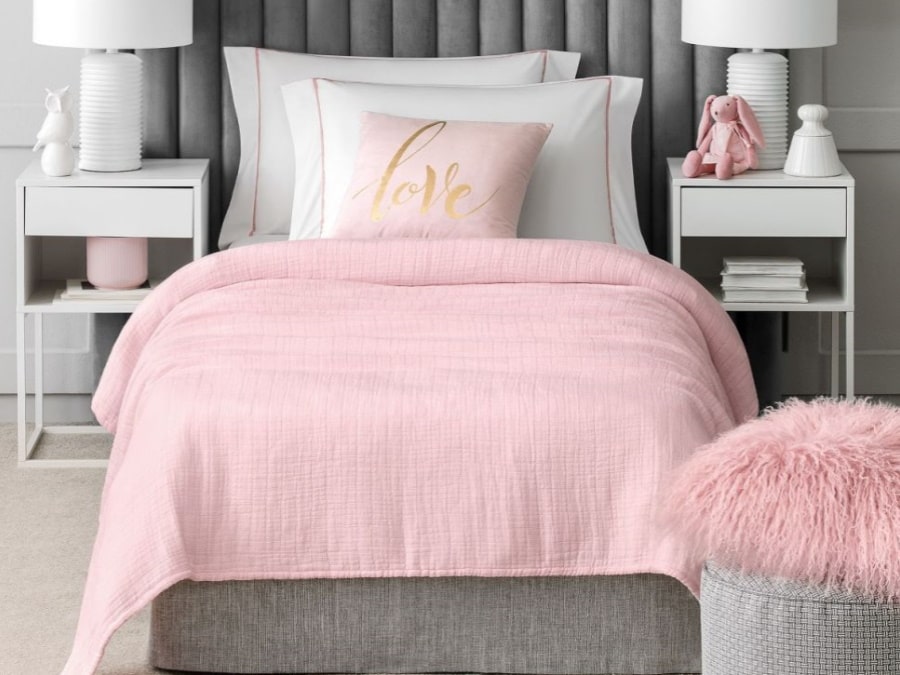 Bedspread Tracy
The best fabrics
How do you choose a fabric for your bed cover? What material is best suited to such an item? Go for the model that fits the decor of the room, looks great and offers the best tactile experience. Here are our tips for choosing the properties of a bed cover:
dense and wrinkle-resistant
wear-resistant
doesn't fade in the sun (if the windows of the room face the south side)
doesn't deform
ideally, easy-care.
Silk. Silk bed covers are truly gorgeous. Silk shines in the evening light of lamps, this delicate fabric is so soft to touch. However, this fabric requires careful handling and is very high maintenance. You also have to forget about a silk bedspread if you have a pet.
Cotton. Cotton items are sustainable and hygienic, very absorbent, don't build up static electricity and have the ability to "breathe". Lightweight cotton bedspreads are ideal for kids' rooms. They can be washed at home, a small blanket easily fits in a washing machine.
Bamboo and eucalyptus fibers. Recycled eucalyptus and bamboo fibers make a soft to the touch, hygroscopic and environmentally friendly material.
Polyester. The fabric most bedspreads use is polyester because they are supposed to be durable, withstand creasing, deformation and last for many years. Polyester fibers are the top materials for bedspreads. Such models are wear resistant and easy-care, don't fade in the sun. Polyester is used to create different fabrics — from delicate velvet to textured jacquard.
Blends. What about buying a model made of a mixed fabric, which combines the advantages of several fibers? For example, polyester and viscose in a material afford the durability of polyester fibers and the softness of smooth viscose.
Size matters
Even the most gorgeous item made from luxurious velvet or delicate silk can go wrong if you got the wrong size.
How do you choose the right size for bed cover? Your bed always has bed linen on it. Pillows and duvets, especially down duvets, add volume to your bed, so avoid buying a bedspread, focusing only on the width and length of the mattress — it will puff up and become too short, will fail to cover the legs of the bed and the things you store under it. To measure its dimensions, be sure to take into account the thickness of the mattress as well (products 20 cm or 45 cm thick require different amounts of fabric). Even if you have a standard single bed with a very high mattress, when choosing the size of the bedspread, go for much greater length and width.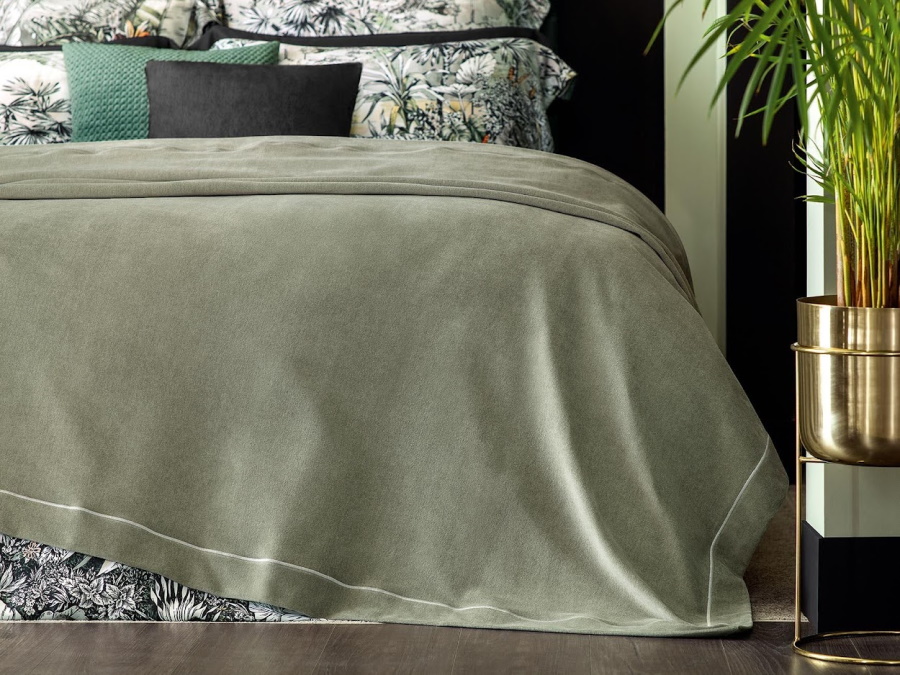 Bedspread Ilbama
What if I have a sofa?
If there is only one room and it is space stingy, then you have to sleep on a folding sofa. In this case, a bed cover/throw is perfect to protect your sofa from stains. It is also a great option as a comfortable cape for daytime sleep.
The original model can act both as a comfortable extension and a striking decoration in the room. For example, "Amara" cape from artificial fur, which imitates chinchilla fur, is created from artificial fibers that are indistinguishable from delicate natural fur. Carelessly thrown on the armrest of the sofa, "Amara" will plunge the guests and its inhabitants into the atmosphere of a medieval bedroom, decorated with capes of rare furs.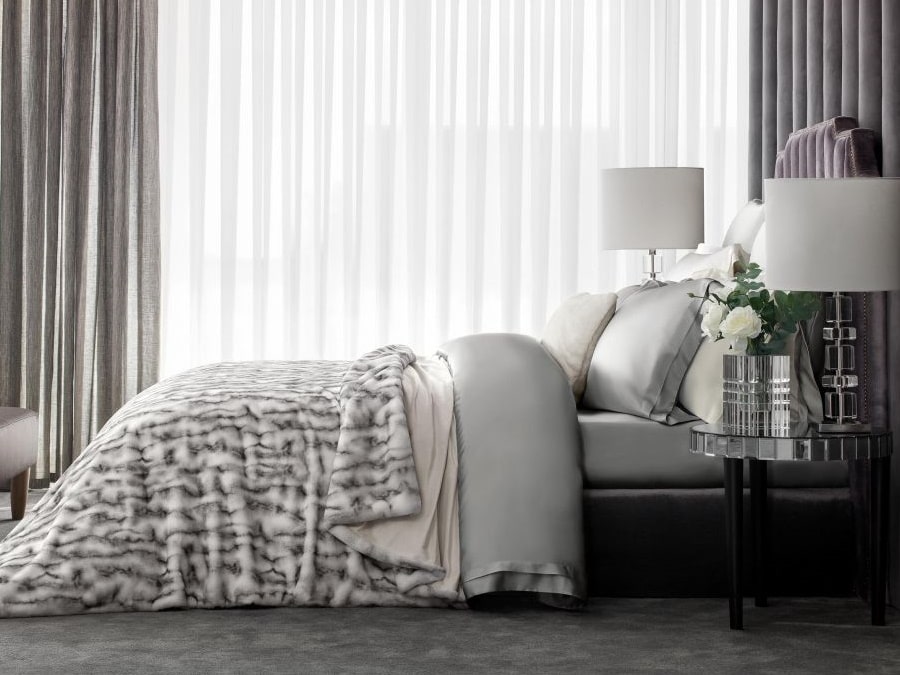 It is hard to choose a bedspread for a sofa when there are pets in your family. Bouclé fabrics, burlap, and other similar materials with a loose texture are off-limits since they will quickly fall into a state of disrepair. It is better to use throws made of anti-vandal fabrics or simply featuring a smooth coating, invulnerable to claws. They will become additional protection for upholstered furniture.
Buying decorative textiles for bedroom requires attention, time, understanding of color combinations. If you make the right choice — the bedspread can become a special decor element, will create the desired atmosphere in the bedroom and give you the opportunity to be proud of the interior.