Stylish black and white bedroom
6 May 2022
Reading time: 3 min
3 views
16 November 2022
Reading time: 3 min
3 views
Two colors, black and white, create the most striking contrast. Two opposites, north and south, day and night. This combination is a timeless classic in fashion and a stylish choice for home decor.
A black and white interior conveys a message of elegance and challenge, boldness and determination. Such bedroom design cannot be seen as classic. Unlike muted pastel hues ordinarily used to create an island of relaxation and calm, black and white design is a courageous choice.
This monochrome combination is suited to laconic modern interiors in a minimalist aesthetic, high tech, earthy Scandinavian, as well as elegant art deco. To pull off Scandi style, one needs to emphasize the white color, leaving black around the edges. While high tech style requires the color black to run the show.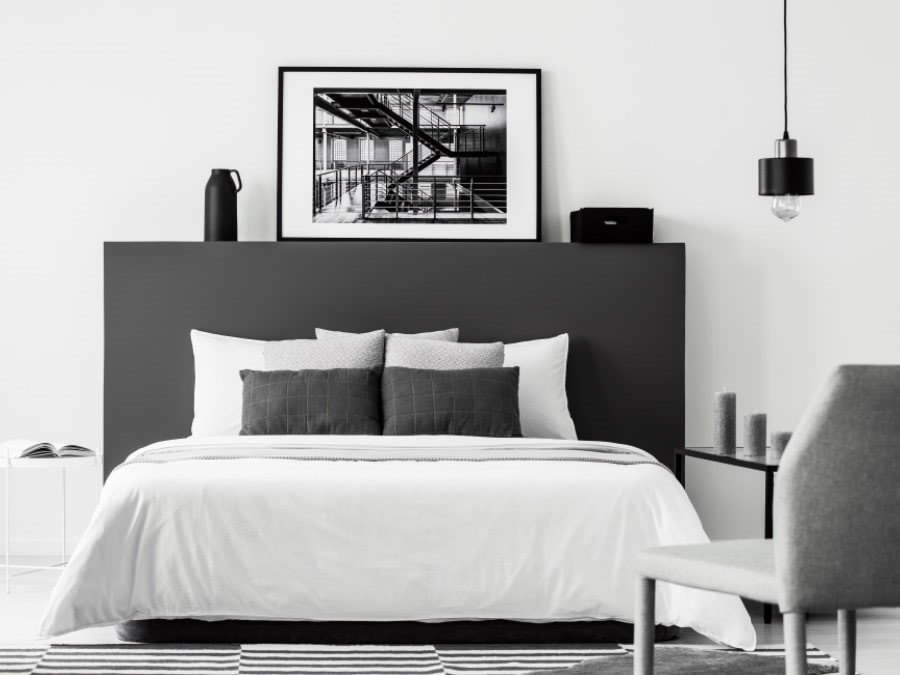 Black and white only
This austere combination is markedly individualistic and doesn't suit every interior. It favors the most courageous and eccentric, those who value style and self-expression over the cozy relaxation of soft pastel hues. The black and white monochrome also gets powerfully incorporated with modern interior design trends.
Such a stylish bedroom will definitely make a statement through contrasting black and white bedding sets. A new item from Togas — "Clarity" is made of silky cotton-sateen of increased density. This is a black bed linen with a contrasting white piping on pillowcases and duvet cover. It makes a perfect combination with snow white bedding set "Clarity" that features a black piping framing the purity of white. Such combinations quickly engage the eye and afford an unforgettable look.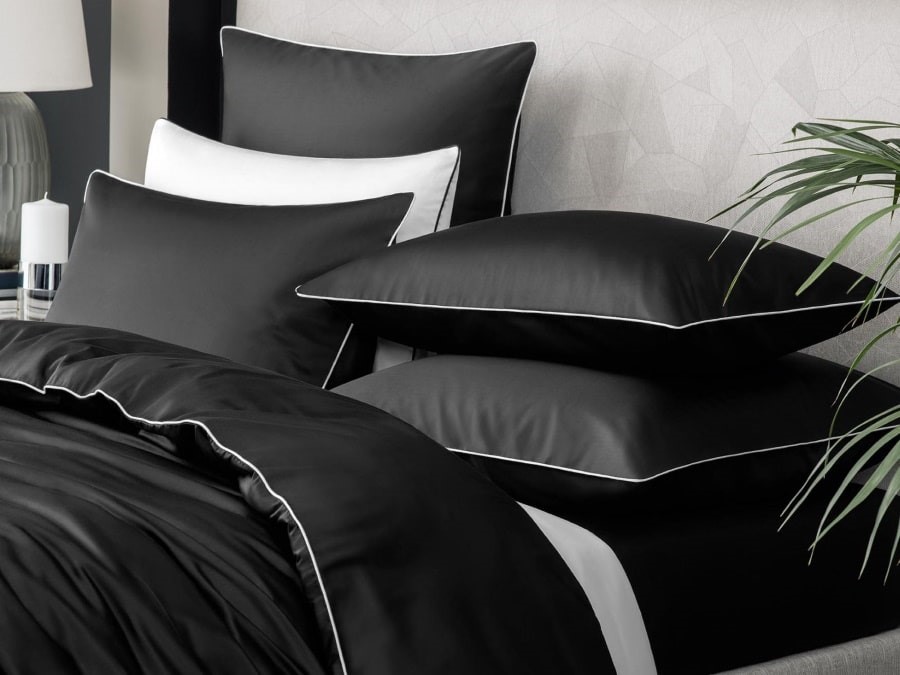 Diluting monochrome
The sharp contrast created by this duet can be softened with extra hues. This will make your bedroom stylish and elegant, yet less contrasting, to avoid evocations with Malevich's Black Square.
One way to dilute the black and white monochrome is to add an accent or two. For instance, playful decorative pillows on a black throw "Amara". This gorgeous faux fur throw resembles panther's fur and creates a striking contrast with light walls and white frilly tulle curtains in the bedroom.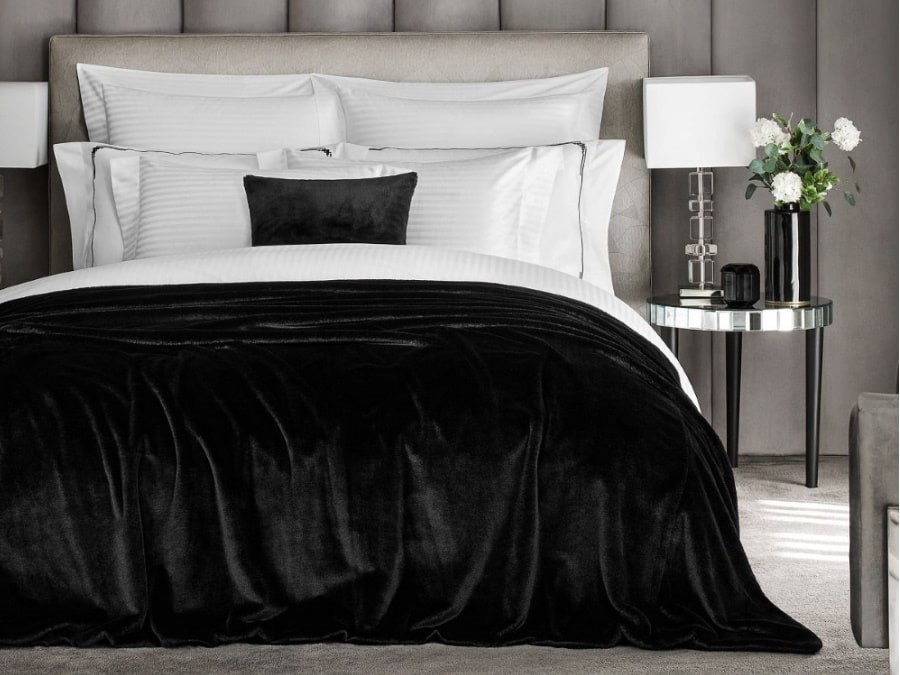 A few lively yellow or red accent cushions go well with this throw, the vivifying color will dilute the black and white design of the room.
Another way to soften the contrast with halftones is to add gray hues to black and creamy beige hues — to white. This will lend the interior design a warmer and more comfortable vibe. Instead of white walls in a bedroom, go for ivory white or ecru. Textiles options for windows — hues in gray color palette with white. Or black and white decor for the room except for the floor and doors in neutral beige.
The contrasting nature of black and white can be diluted by expressive textures that engage the eye. If it's a loft, go for plaster with imitation concrete or white brick to dilute the space and create a third element engaging the eye. If your interior design leans toward the ultra-modern high tech, surfaces and furniture from metal will become its highlights.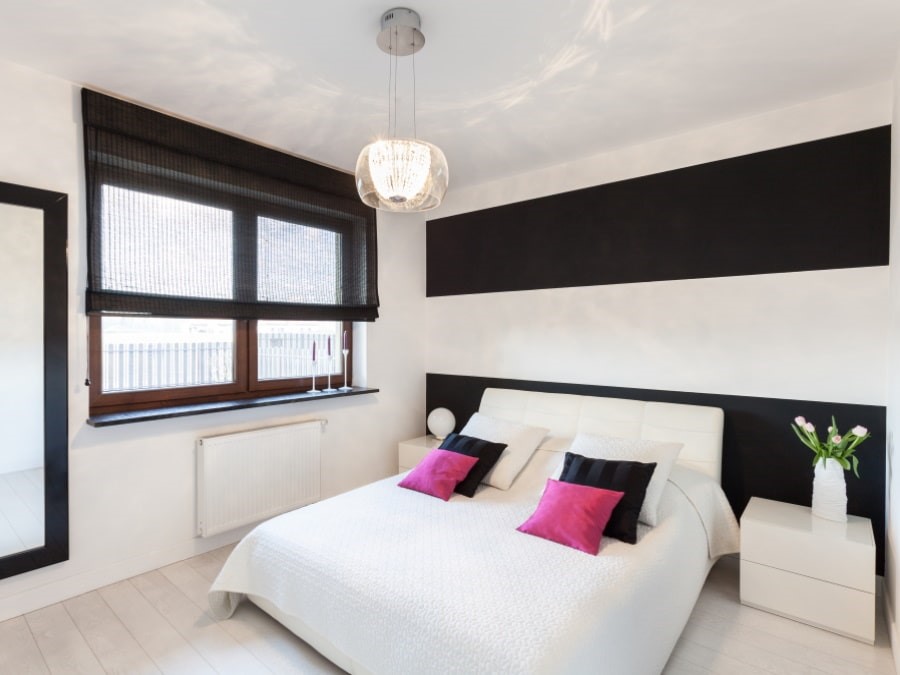 Bedroom lighting
If you want to create a black and white design for your bedroom, factor in the size and lighting of your space. If the room doesn't have good lighting, it is small or narrow, the color white should dominate your palette choices. Only a few black decorations or some small decor items may stand out. But if your room is large and there's a lot of sunlight, you can play with black — glossy furniture fronts, leather headboards, armchairs, textiles.