14 July 2022
Reading time: 11 min
24 views
Choosing curtains for the interior
19 July 2022
Reading time: 11 min
24 views
Curtains for interior or interior for curtains? What do you think about the textile decorations on the windows in your living room or bedroom? Read on to learn about how to choose curtains for living room and bedroom.
Usually, curtains are selected according to the interior, style, design, and/or palette. Textile decor is the final touch and completes the remodeling of a room, whether it's a major repair or a simple repainting of the walls and changing of the range of shades.
What's the best way to choose the interior decor for windows? It can be combined with furniture or create contrast, but still complement the interior and look organic in it.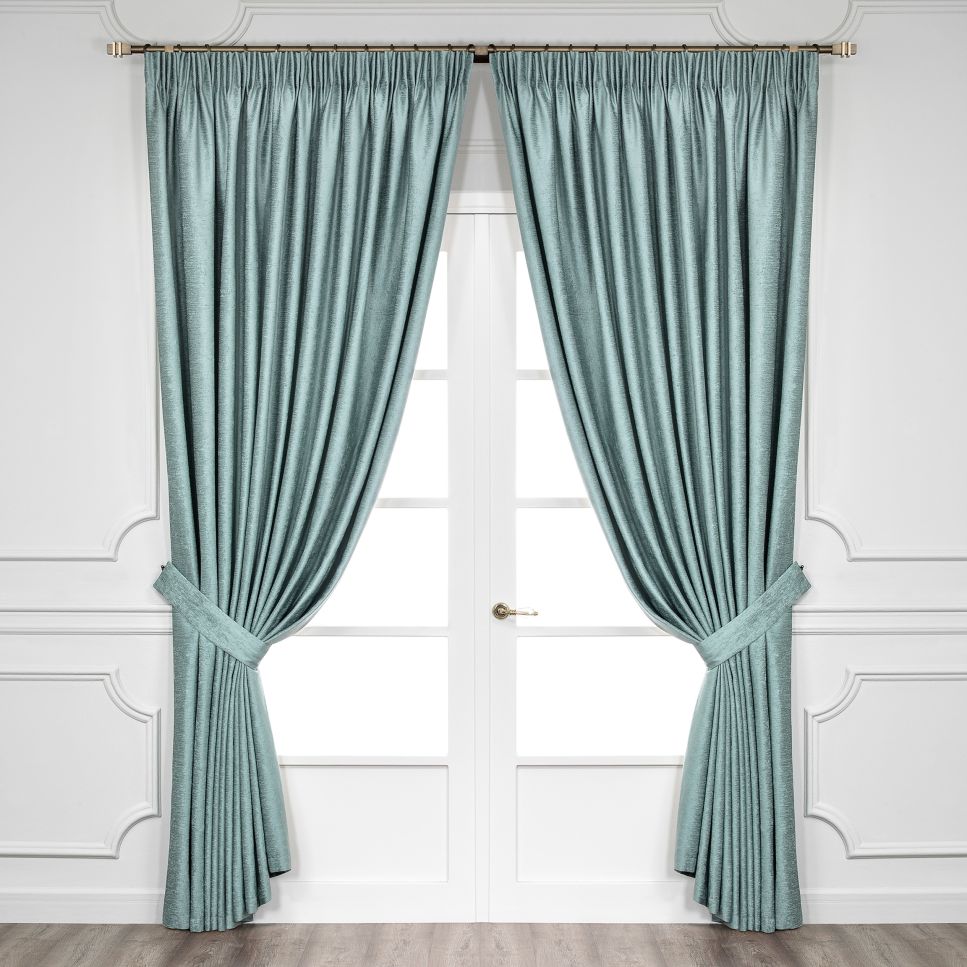 Curtain with tieback EUGENE Turquoise - 1 panel
How to choose curtains for living room: Keep these things in mind
Color of the wall
If you have a simple interior in soft, comfortable tones (for example, the gray-beige scale that is currently popular), and you choose plain curtains, you can choose the color of the fabric from the same palette as the walls.
It is better to choose curtains with a slightly darker or more saturated tone so that the curtains do not blend with the wall. In this way, you can easily buy fabric without the help of a designer and without agonizing over how the new curtains will be combined with the whole environment.
If the room does not have plain wallpaper or paint on the walls, but instead it has a bright wall, It will be interesting to have living room curtains that complement it with colors or have the same design elements.
For example, say on the accent wall there is a lush tropical ornament, and it is also on the fabric of the curtains, but only in a more muted color and not so large. With such a repeating pattern, the interior of the room looks complete.
Many large manufacturers offer companion fabrics for wallpaper, which is very convenient.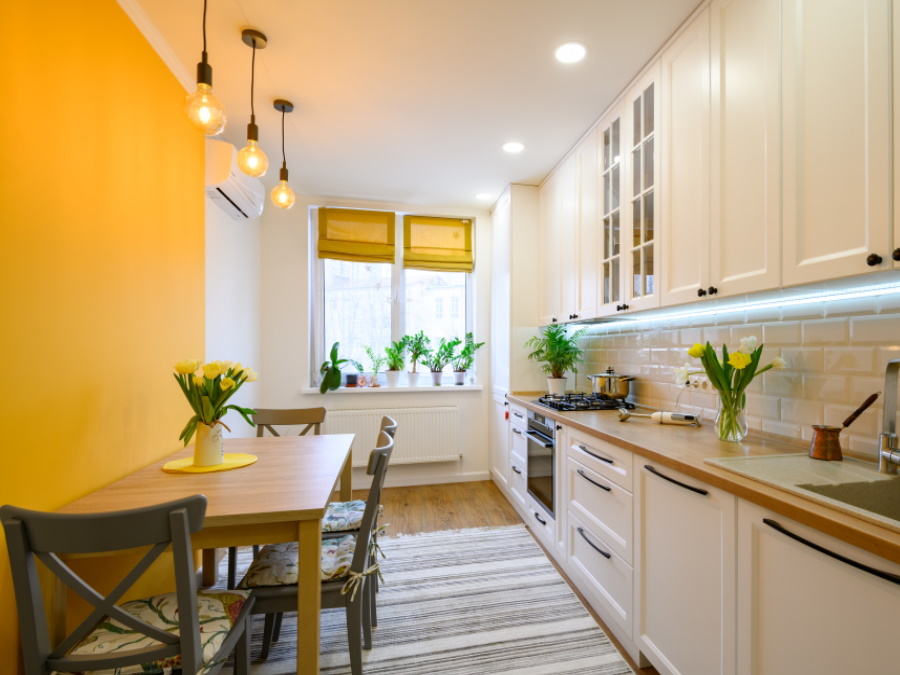 Shades of upholstered furnishings and upholstery
Often curtains are selected to match upholstered furniture in the living room or textile upholstery of the bed in the bedroom.
Window decor in the colors of upholstered furniture is a classic combination that creates an interior "with history," reminding us of the atmosphere of the Victorian era, where the curtains reflected the upholstery on sofas or armchairs.
Curtains can echo the furniture with an ornament or complement it with color. If the upholstery is bright or colorful enough, with a pattern, then they can soften the brightness — for example, it can be the same shade, but more muted. A rich ornament can be repeated only with contours, sketches, and elements.
In the bedroom, it is easiest to choose curtains for a soft textile headboard. The material can be the same color or a similar shade from the same range.
If the curtains are not plain, like the head of the bed, but with an ornament, then the shade of the textile upholstery can be repeated in some elements of the pattern on the fabric.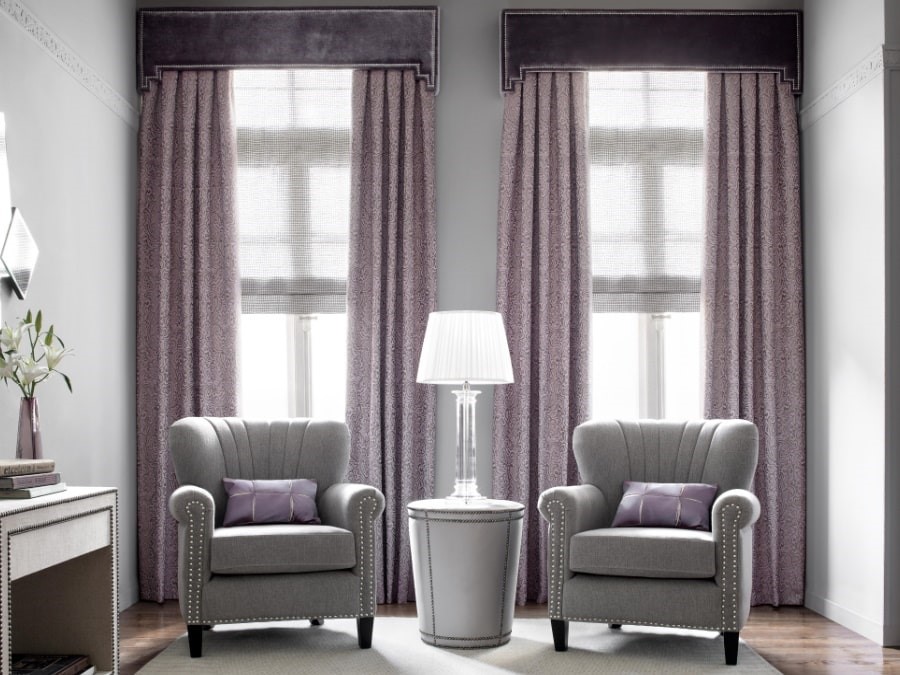 Choose the right fabric for curtains
How much light the room gets and the desired level of privacy should both be taken into account when choosing the fabric for living room curtains.
Choose fabrics, such as cotton or linen blends, that diffuse light without blocking light from the entire window if the room receives a lot of natural light.
If you're worried about seclusion, go with heavier fabrics like velvet or blackout drapes. Consider the room's general design next, because the curtains should blend in with it.
Finally, take into account the fabric's maintenance needs, as some materials might need dry cleaning or additional care.
The perfect material for living room curtains should ultimately strike an equilibrium between maintenance, style, and functionality.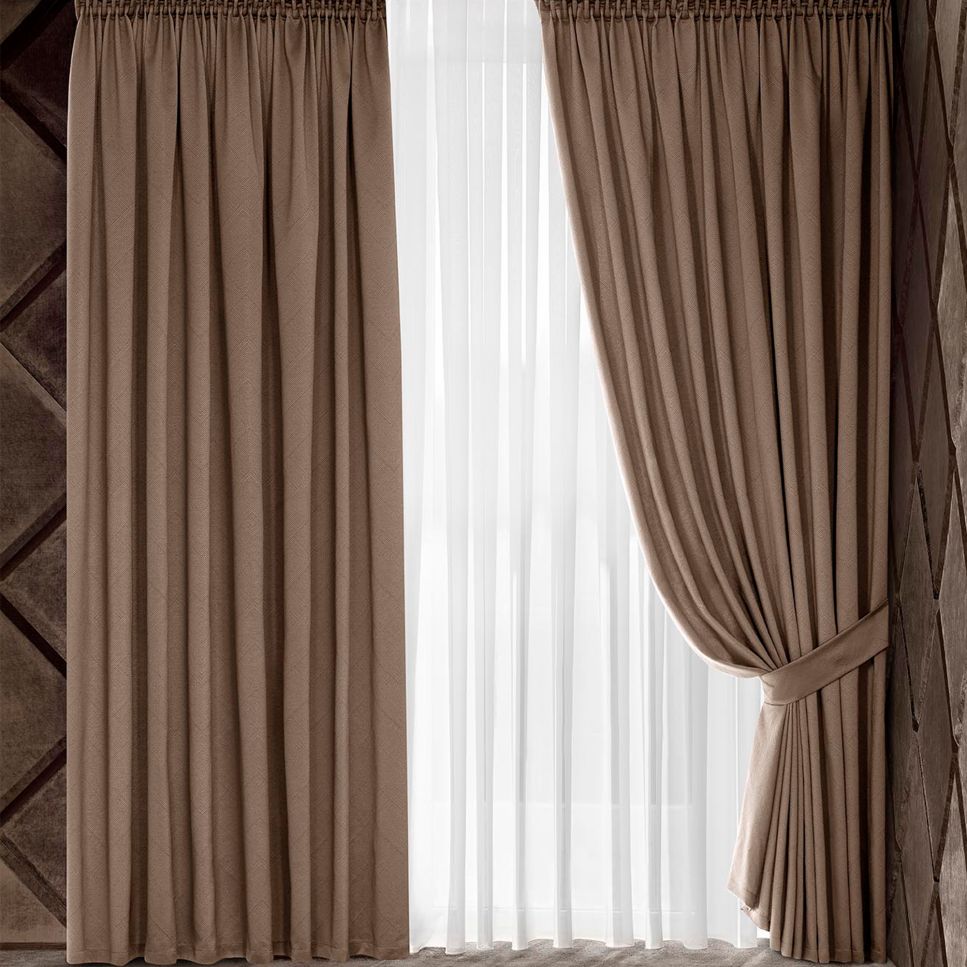 Curtain set ARDEN
Curtains that are ideal for living rooms
A living room can accommodate a variety of curtain types, each with specific characteristics and advantages. The curtain styles that are most popular are:
Grommet curtains: Metal rings that slide onto a pole are attached to the top of these curtains. For living rooms that are frequently used, they are a fantastic option because they are simple to open and close. Additionally, they appear sleek and contemporary.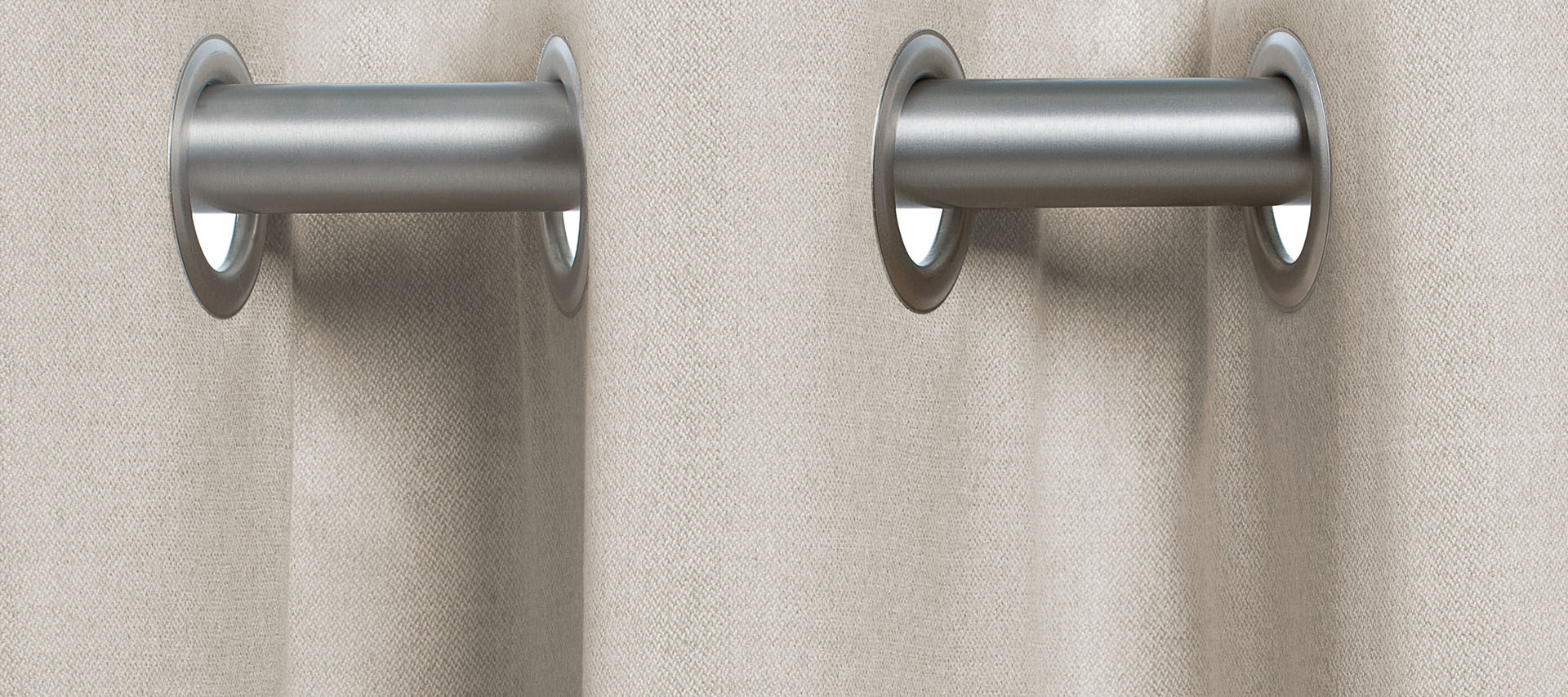 Grommet drapes offer a stylish, polished look for modern interiors
Tab top curtains: The apex of these curtains has cloth loops that slide onto curtain rods. They can give a living room a cozy feel because of their straightforward, traditional design.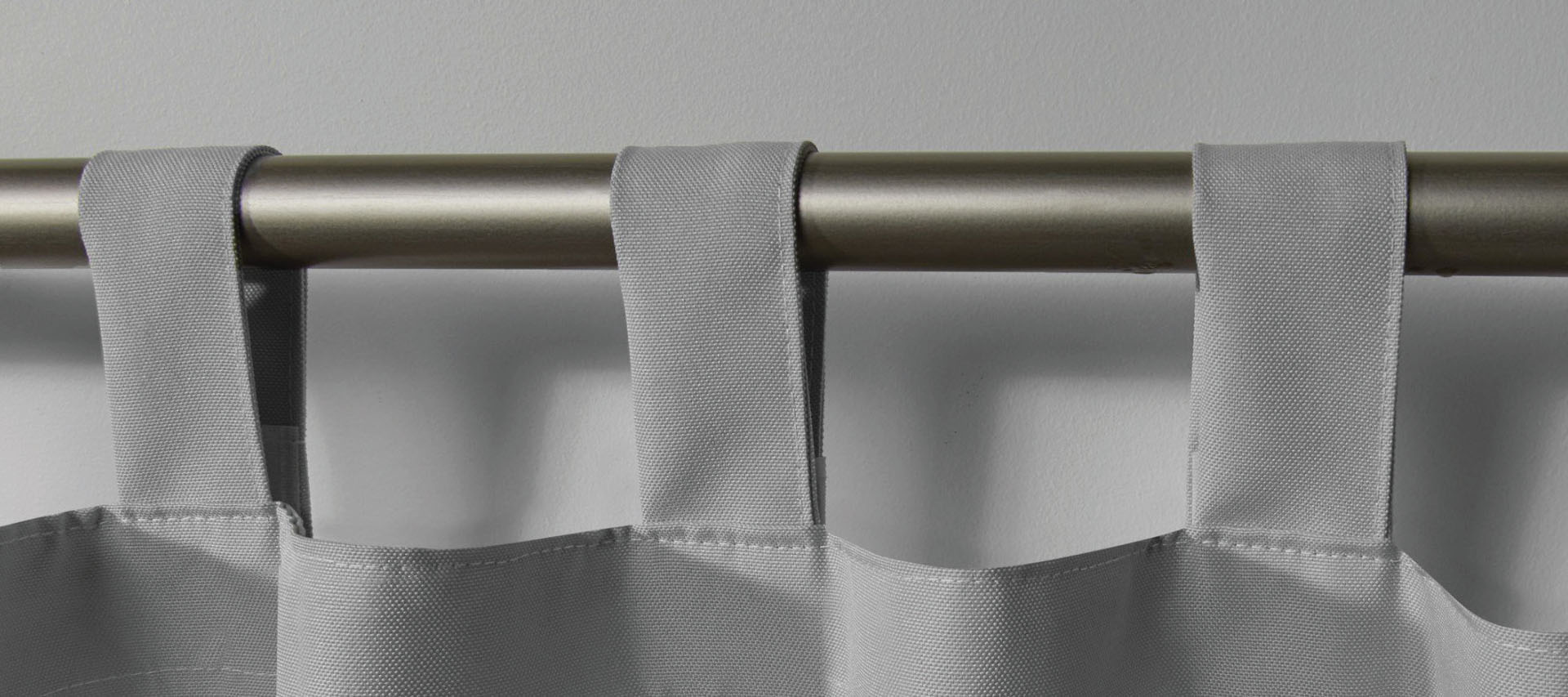 Tab top drapes
Rod pocket curtains: There is a pocket for the curtain pole at the top of these drapes. For more formal living areas, they are perfect because of their traditional and formal appearance.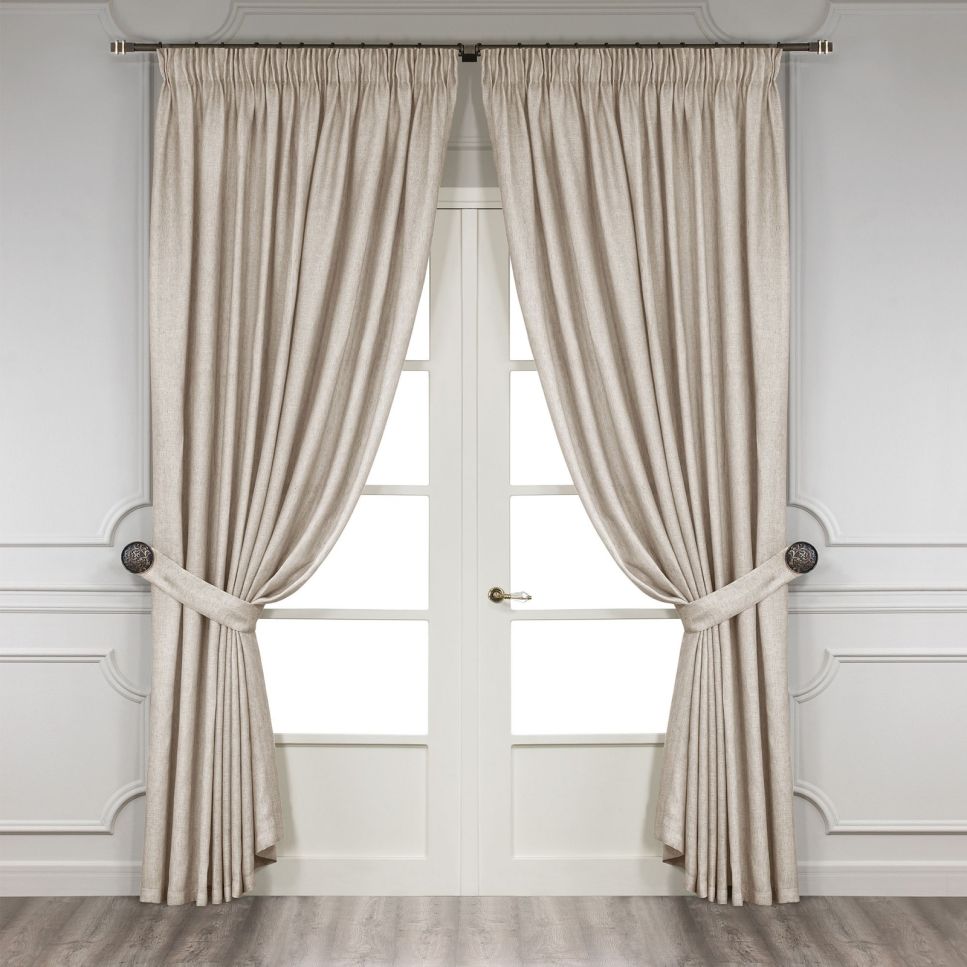 Curtain with tieback LARSON Beige - 1 panel
Sheer curtains: Lightweight and translucent cloth was used to make these drapes. They offer seclusion while allowing for the entry of natural light. They are ideal for living areas with a need for seclusion but with natural light.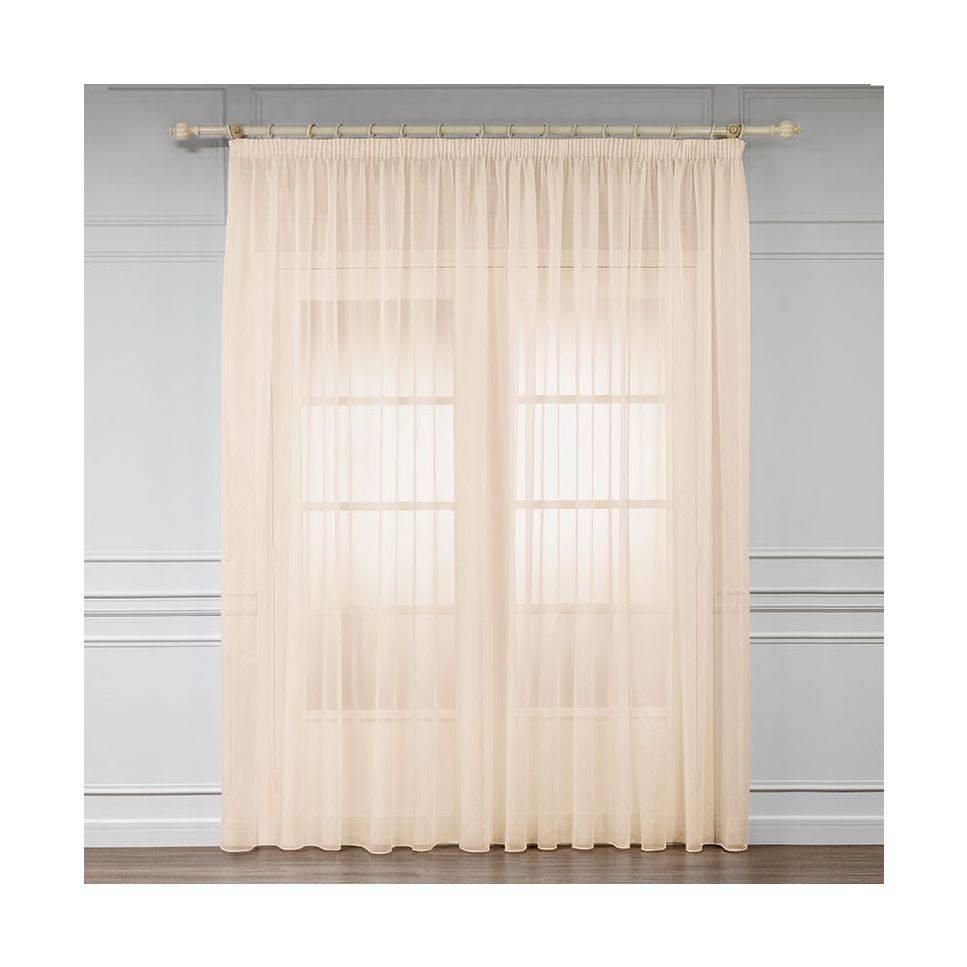 Sateen-organza Ecru - 1 panel
Blackout curtains: The heavy fabric used to make these curtains entirely blocks out light. They are perfect for living areas that need to be as private and light-controlled as possible.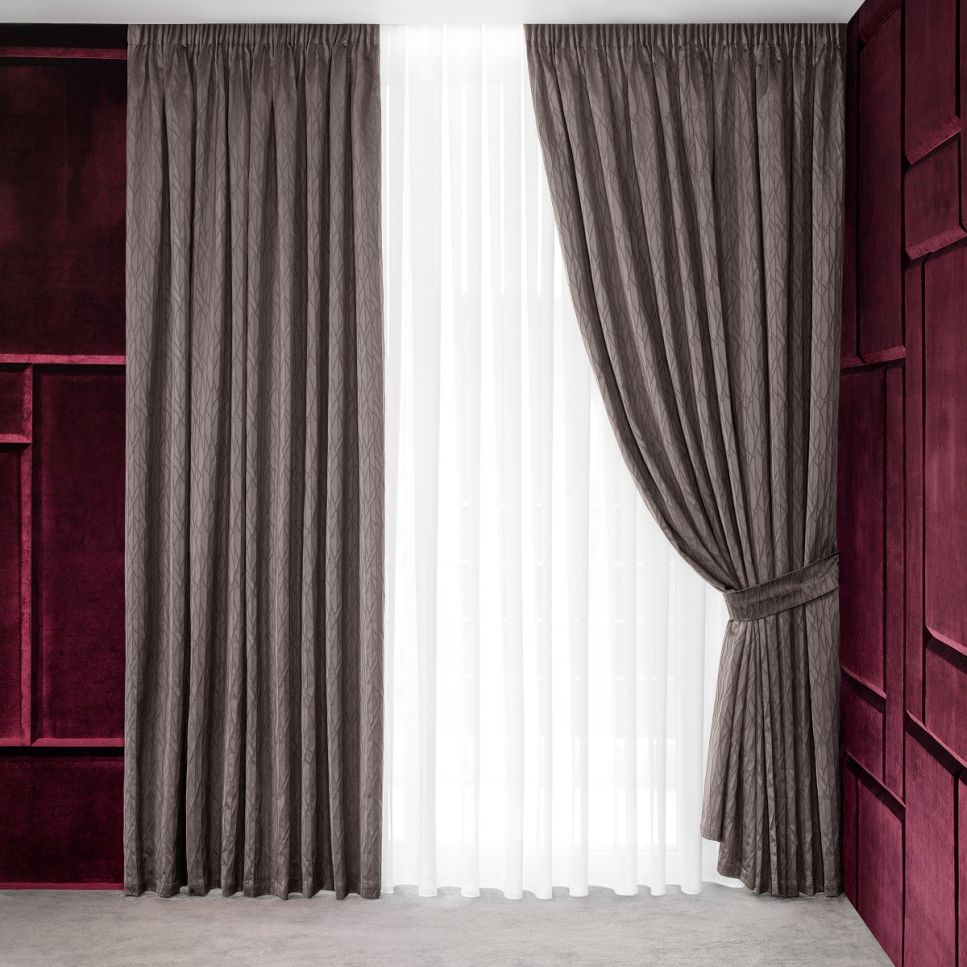 Curtain set MARIPOSA
When selecting curtains, consider the living room's general decor, how much light comes in, and how much privacy you want. Curtains with grommets or button tops can look stylish in a contemporary living room.
Rod pocket curtains can be an excellent option for a formal or conventional living room. Living rooms that need seclusion but still want natural light can benefit greatly from sheer curtains. For living areas that need the most privacy and light control, blackout curtains can be a good choice.
Inspiration ideas for living room curtains
Sheer curtains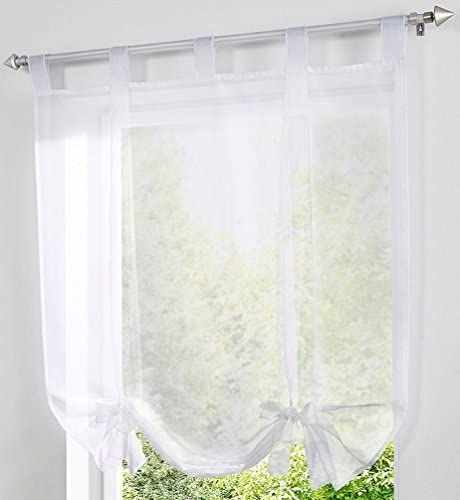 Living room curtains with sheer fabrics
Sheer curtains are a common option for living rooms because they offer some privacy while letting in a lot of natural light. There are numerous designs and hues available for these sophisticated and lightweight drapes.
Velvet curtains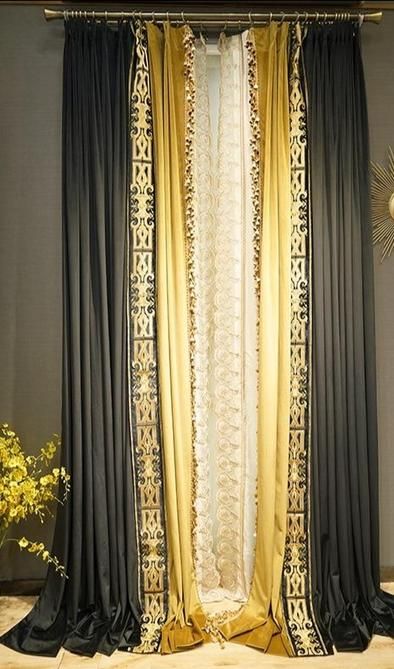 Velvet living room curtains
Velvet curtains are opulent and inviting, and they give a sitting room warmth and texture. They come in a variety of hues and are excellent for establishing a warm environment.
Patterned curtains
Patterned living room curtains
Consider patterned curtains if you want to give your living area some personality. There is a broad variety of designs to pick from, including floral and geometric styles.
Stripped curtains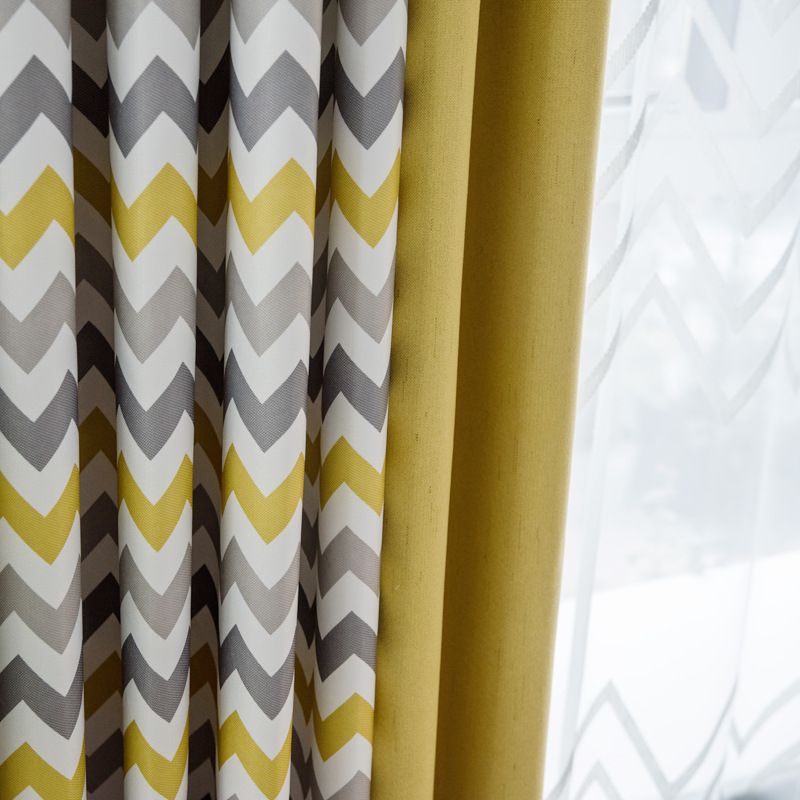 Striped living room curtains
A living room can have a timeless, tailored appearance with striped curtains. They are available in a range of hues and designs.
Blackout curtains
Blackout curtains
Blackout curtains are a fantastic option if you're looking for a method to keep light and noise out of your living room. These drapes frequently have a blackout lining to block out light and are constructed from weighty materials. They are sometimes referred to as room darkening curtains.
Linen curtains
Linen living room curtains
Your living room can benefit from some rustic charm added by linen curtains. A calm and cozy atmosphere can be created in your house using linen's natural fibers and subdued colors.
Grommet curtains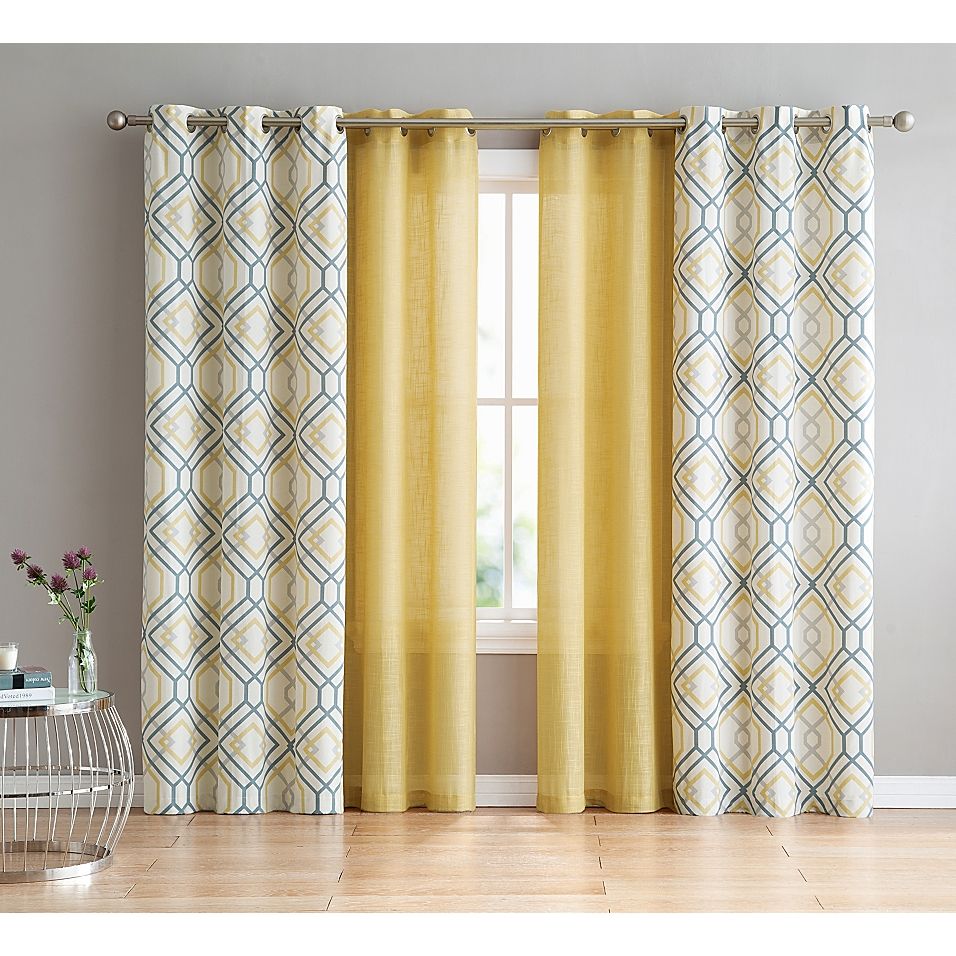 Grommet living room curtains
For a contemporary and fashionable look in a living room, choose grommet drapes. The metal grommets on the top edge of these curtains enable them to slide along the curtain rod with ease.
Silk curtains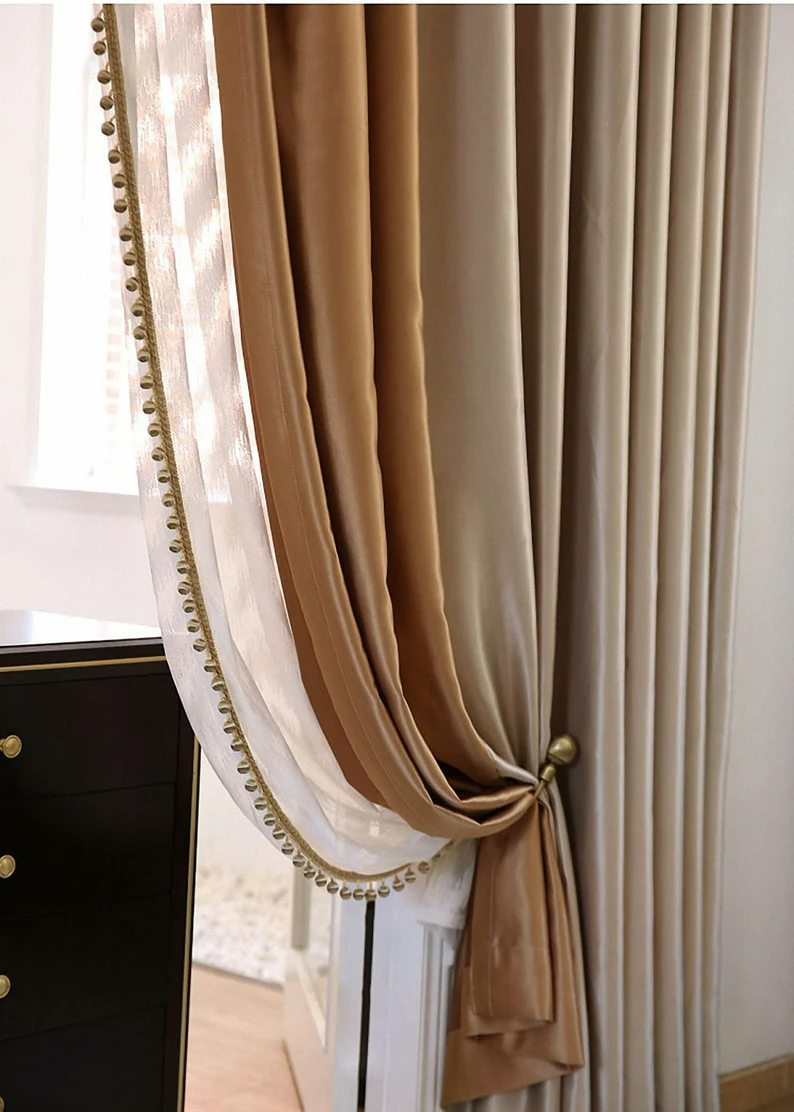 Silk living room curtains
Silk curtains, which are opulent and sophisticated, give any living area a touch of sophistication. They are ideal for setting a stylish tone and come in a variety of hues.
Embroidered curtains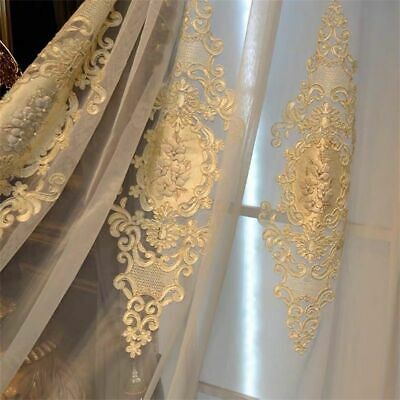 Embroidered living room curtain
Your sitting room can be given a sophisticated and opulent touch with embroidered curtains. These drapes are available in a wide range of hues and styles, and frequently have elaborate designs.
Strong color curtains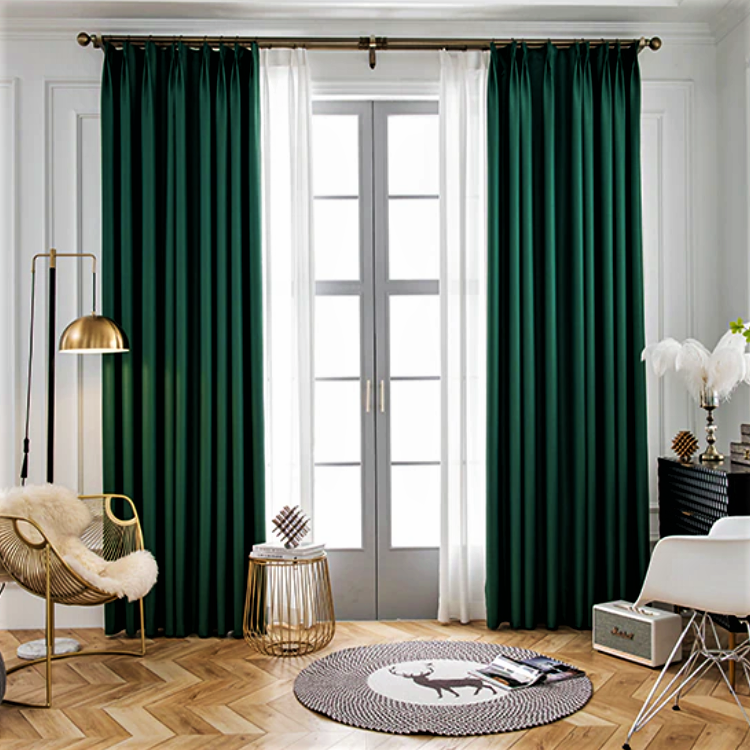 Dark green living room curtain
Bold colors may unnecessarily draw attention to the drapes, but when chosen purposefully, they transform the space as a whole.
This living room has a very glam and theatrical vibe thanks to the extra-long, dark green curtains that match the couch. In this situation, the brass and golden embellishments are the ideal selections.