27 October 2022
Reading time: 4 min
2 views
Let's get ready for Halloween!
7 November 2022
Reading time: 4 min
2 views
There is very little time left before the most mystical holiday of the year. Let's think about house decorations, creating a special atmosphere for this holiday, and having a great last October day.
This holiday is unimaginable without its characteristic decorations. House interior in the Halloween spirit, what is it like? Obviously, it is a dark noir setting, paired with an intimidating and stylish blood-red color. That's exactly what you need for solemnity and simultaneously gloomy elegance. Let's dilute the black color with glitter because the holiday calls for elegant accessories and gilding of decor items.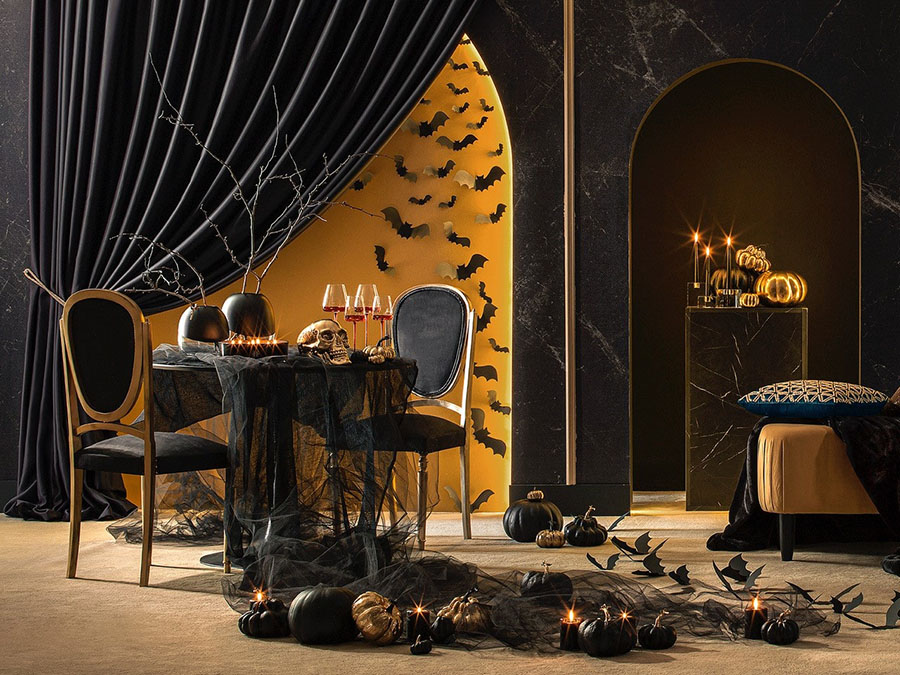 Living room
We are going to meet friends in the living room, decorated with spectacular festive decor. We will complement the interior with a couple of bright pumpkins. After all, it is difficult to imagine the main mystical night without the queen of Halloween, a luxurious orange pumpkin.
The sofa in the living room will be the center of attraction for those gathered on this festive evening. Let's add some gold and silver glitter by placing some pretty throw pillows. Take a look at the Saurino pillow. It is a gorgeous shiny pillow, decorated with beautiful hand embroidery with glass beads. Perhaps you would need a little more black color for Halloween. The Amara decorative pillows would make a great black accent. It is made of shiny black fur, which reminds us of panther fur.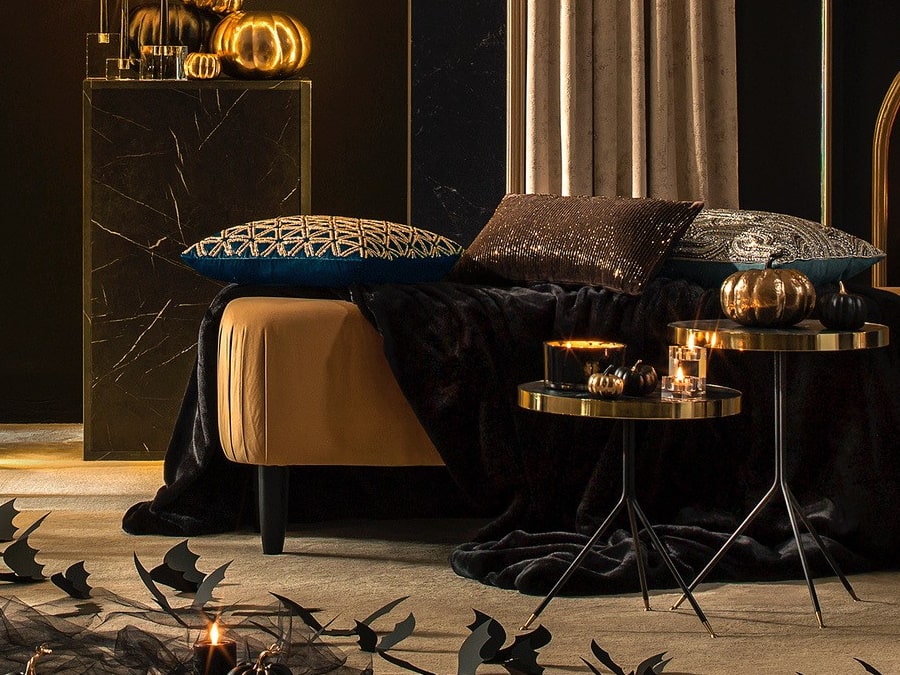 The Chelsea tablecloth of a gorgeous charcoal color will look great on a festive table. It will create a beautiful contrast with snow-white porcelain dishes from the Nea collection. It doesn't require any unnecessary patterns, only the brilliance and whiteness of bone china and laconic design. Set the table with an autumn flower arrangement in a stylish Ayres vase, which combines clear glass with a matte black finish. Add some candles in black crystal Osvald candlesticks, and here it is, an elegant noir in the spirit of Dracula's castle!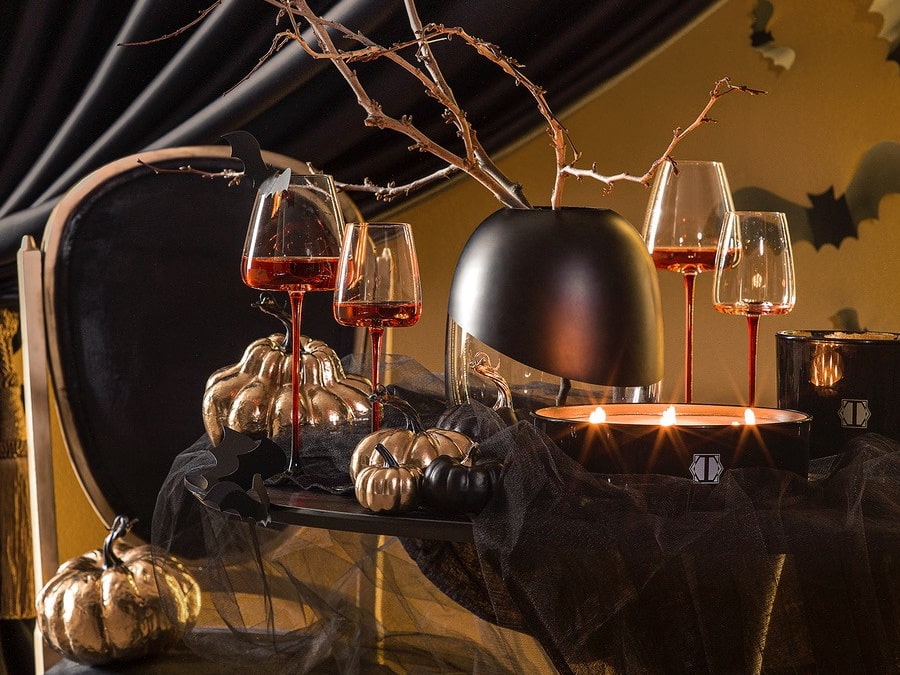 What about pumpkins? We haven't forgotten about them either. Choose a bright orange pumpkin and carve it with a scary or a smiling face, depending on your mood. You can opt for the most standard version which is triangled eyes and a grinning mouth. That is how we do it:
Cut the top of the pumpkin off with a knife.
Remove the pulp with a deep spoon.
Draw eyes and a smile with a marker, and carefully cut them out with a sharp knife.
If you have several pumpkins, additionally color them with markers, giving each a different facial expression.
Kid's room
Children love and wait for Halloween more than anyone. Arrange a real fairy tale in your kid's room, decorate it in the style of the Addams family house or the witch's hut. You can create an spooky atmosphere by using the simplest things. The muffled light from the lit candles will give the room a spooky vibe.
What will we need? We will need black balloons that will hang from the ceiling. You can "weave" a web by hanging gauze and attaching it to the ceiling or the top of the furniture. It will look like a real web!
These gorgeous black candles are the Osvald candles in candlesticks. By the way, simple and cute candlesticks can be made by yourself as a fun activity with your child. You can paint small jars with acrylic paint in bright yellow or cut out figures out of black paper and glue them on the jars. It could be the outline of bats or ghosts.
Don't forget to buy themed masks for children. They will be happy to play the role of scary characters and scare each other.
Bedroom
A bedroom in black colors with sprinkles of bright red is the perfect combination for this mystical holiday night.
Black bed linen is luxurious, elegant, and unique. It is definitely a must-have on Halloween night. The Sensa black set made of silky material SENSOTEX® is slightly shiny, and the linen is soft, delicate, and feels like natural silk. The rich color of the fabric and its radiance resembles an expensive black diamond. This set will be a spectacular accent in the bedroom.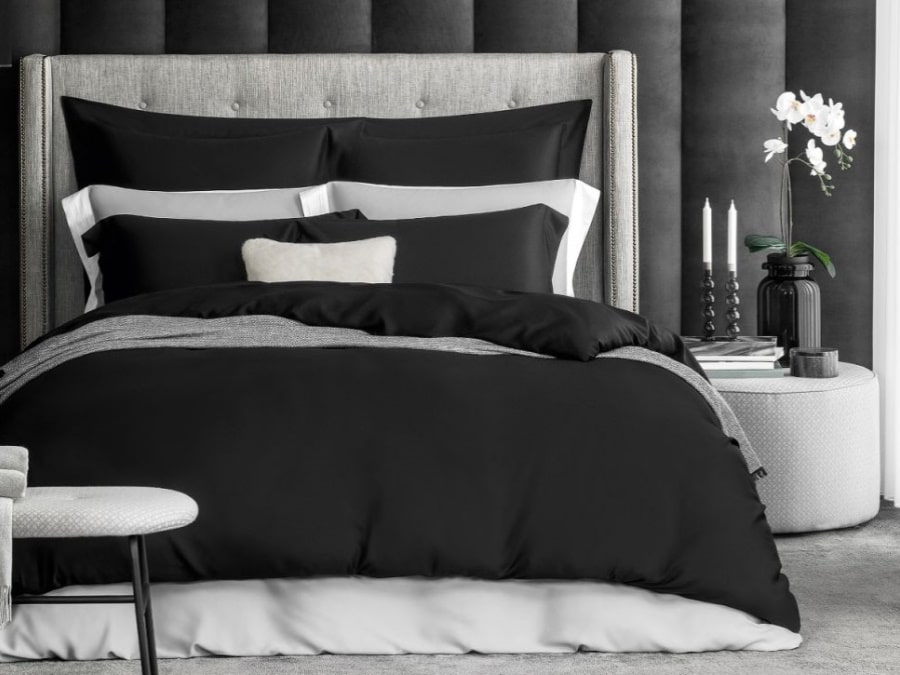 For those who love thick wine or blood red shades, the Royal set has been created from royal satin in a rich shade of burgundy. The silky black Naomi kimono for women will create a beautiful contrast with the red color of the linen.
To create a special atmosphere, let's add a little spicy, unusual, and mysterious aroma to the bedroom. The Patchouli and Sugarcanre scented candles with a complex, deep bouquet with the woody aroma, notes of exotic sandalwood,and sensual amber will make you feel like a sorceress or a guest in a vampire's castle.