9 December 2022
Время чтения: 3 мин
1 просмотров
Winter has come. An overview of down duvets
9 December 2022
Время чтения: 3 мин
1 просмотров
What can be warmer and cozier than down, comparable to the pure white, soft and airy snow?
Fluffy down duvets are ideally suited to keep you warm on cold nights. If you prefer to keep it cool in your home, this type of comforter will provide the most warmth. This is an ideal duvet for those who favor crisp air and sleep with an open window even in winter.
Down is undoubtedly the warmest fill, however it comes in many types and varying quality: it is plucked from wild and domestic birds, which impacts the degree of warmth, firmness and size of fluff and even color.
Goose and duck down
Duck down is slightly inferior to goose down when it comes to properties, for example, it retains moisture and gradually begins to pile up, so its lifespan is shorter than, for example, goose down. Thermal insulation characteristics of duck down are also lower. This explains the popularity of goose down. Goose down and feather is the most common fill for blankets and pillows. Down from domestic geese is light, soft, and very warm, especially when it comes to white, selected down.
The Togas collection offers several models of duvets with snow-white fluff from the best northern geese breeds. They also differ in both the degree of warmth and their loft. "Royal" and "Royal Grand" have selected white goose down inside. "Royal" duvet is lighter and has less down than "Royal Grand" which is very warm and lofty.
If you are seeking warmth and supreme softness, take a look at "Nobilis" duvet. It has special down from Austrian farm geese that have grown naturally in the foothills of the Alps, grazing freely in green Alpine meadows. This fluff is softer and loftier and has a high ability to recover its fullness from compression. The fluff clusters are large, have 800 Fill Power, affording them the highest quality. "Nobilis" is handmade throughout every stage of its creation. All duvets are filled by hand with down, which goes through several stages of cleaning and sorting.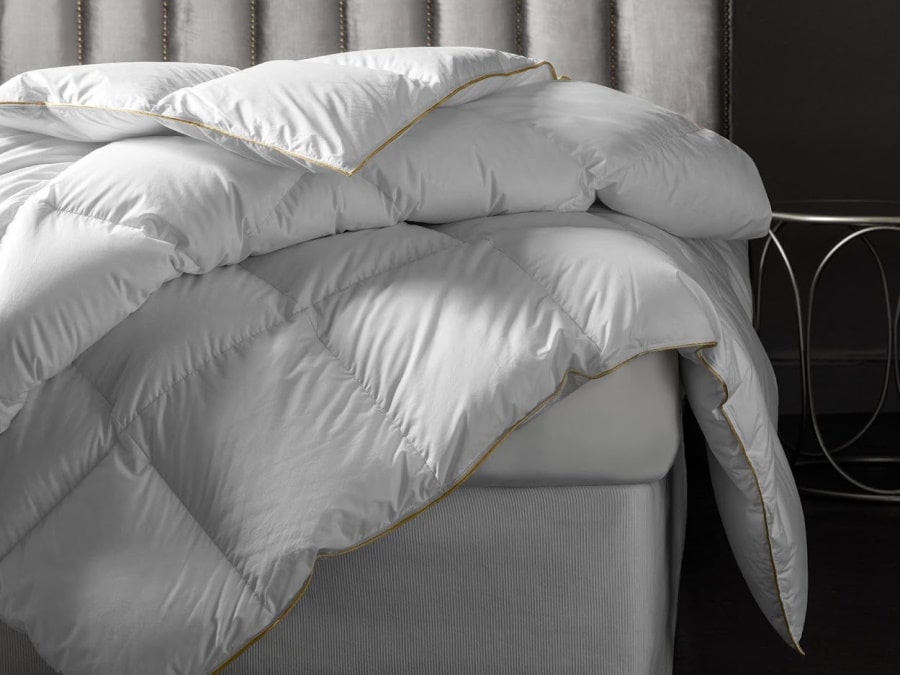 Duvet Nobilis
Wild bird down
Special, exclusive models — duvets with down from wild birds. These are the plumage of Canada geese, hens, and the rare northern eider. Because these waterfowl live in the harsh conditions of the Far North, their down is designed to keep the birds and their offspring warm. That is why it is incredibly warm, fluffy and light. Since wild birds are not bred on an industrial scale, their fluff "mature" and undergo the whole cycle of development reaching the highest possible size. This down is carefully removed by hand from the birds' nests, without damaging them and without interfering with the birds' ability to breed.
"Sovereign" comforter from Togas provides the warmth of wild goose down combined with the finest fabrics in its cover. The duvet consists of two layers. The outer layer is made of delicate natural silk, the inner — from the finest high-density cotton batiste. This protector safely holds the precious fill inside and provides ideal sleeping conditions. This comforter is created for those who truly appreciate genuine warmth, airiness and fluffiness.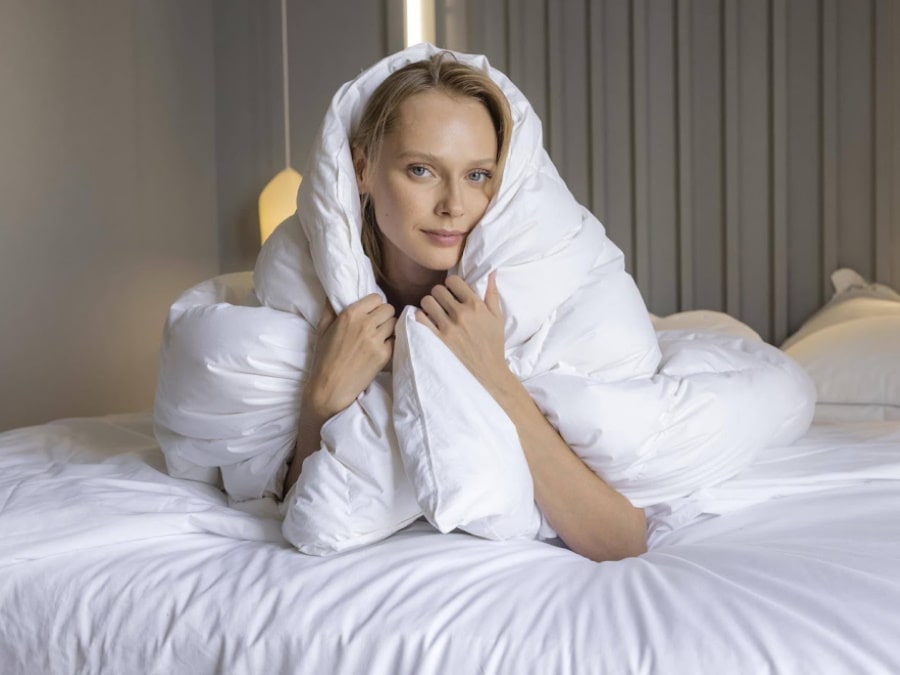 Fluff can cause allergies. However, craftsmen at Togas factories thoroughly clean out all fluff, treating and disinfecting it, so pillows and duvets with this fill are hygienic and hypoallergenic.
Winter has come. Who wouldn't want some down softness and warmth, to wrap up in a fluffy comforter and plunge into this indulgent and decadent experience? Togas offers different models with white or gray goose down, as well as exclusive products with rare down of wild northern birds.