Sateen. Beauty and luster
23 December 2022
Reading time: 4 min
3 views
12 January 2023
Reading time: 4 min
3 views
What is sateen fabric? Sateen is a glossy, smooth fabric made in the satin weave but uses spun yarns instead of filament. Some may take its lustrous finish for silk, yet it's definitely not that silk. So what is it?
Sateen is a luxurious fabric that actually refers to the complex fabric's weave made with spun yarns, not the materials of the fabric. Therefore it can be produced both from natural fibers like cotton and silk and synthetic materials.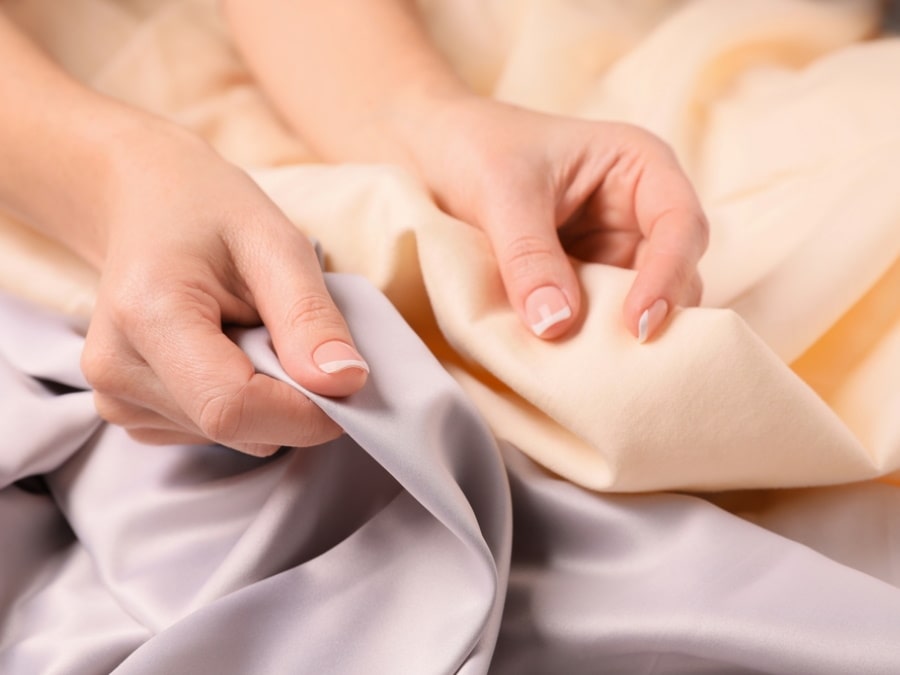 Types of fabric by weave structure
Plain weave is the most common of the three basic weaves. It is made by passing the warp and weft threads over and under each other, with each row alternating.
Examples:
Chintz. The simplest fabric is cotton calico. This weave looks pretty plain: the fabric is rather loose. The material is not wear-resistant and deforms after a few washings.
Calico. A denser plain weave compared to chintz. Calico retains its shape better and hardly shrinks after washing. It looks simplistic since it has no technical face or back due to its weave./li>
Batiste. This fabric uses thinner threads in plain weave.
Unlike common weaves, sateen weave is more complex — four or more weft threads go over one warp thread, or the opposite. The face side has more weft threads, which creates a silky, lustrous finish. This material is both delicate and strong due to the double twist yarns.
The elegant luster, softness and the non-slip surface make sateen the best fabric for bed linen.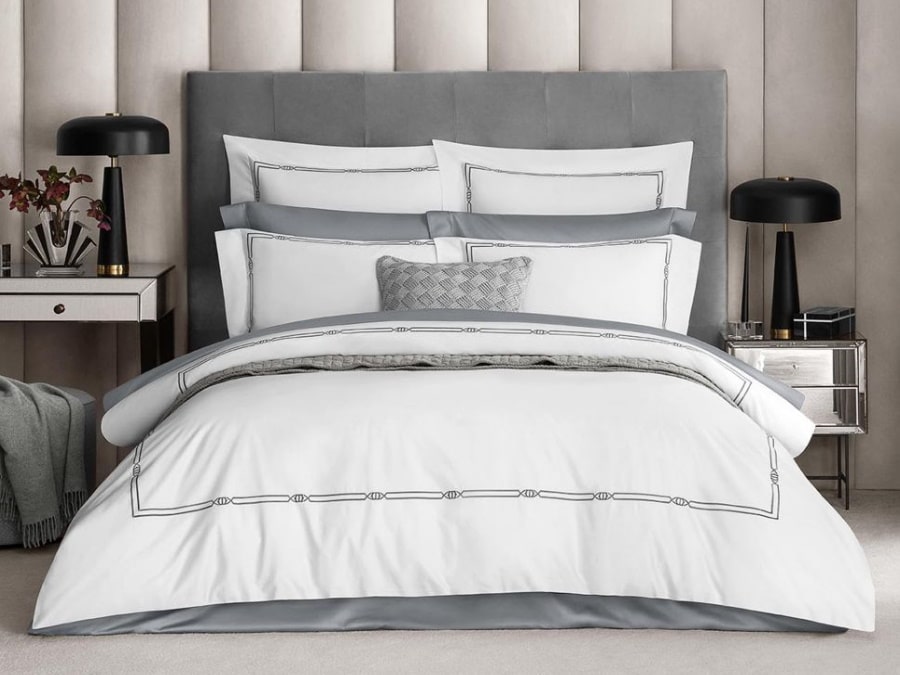 The origins of Sateen
Satin dates back to Ancient China, where masters weavers made it exclusively with silk for the privileged upper classes. It originated in the Chinese port city of Quanzhou, which was called Zaitun in medieval Arabic, a place where silk fabrics were exported from.
Later the composition of sateen changed towards a less expensive and more common cotton. The material quickly gained popularity and is now used to produce both clothing and home textiles. It combines the eco-friendly and hygienic properties of natural cotton with beauty, softness and a silky sheen.
Gorgeous sateen — for bedding sets and more
We are not going to dwell on cheap sateen made from synthetic or blended fibers (like polysatin). Togas is about natural materials, producing its sateen from the best varieties of cotton fibers.
Cotton sateen is used for home textiles, from tablecloths for dining rooms to curtains and bed linen. This is the best choice for high-quality sets and is one of the best fabrics for bedding.
Sateen bedding — what kind of fabric is it? Cotton sateen properties depend on its density. The higher the density, the higher its quality and durability, the longer its service life. Linen with a density of 300-400 TC is an expensive material made from the best cotton. All fabrics for bed linen from the Togas collection are made of sateen with a high density of 200-400 TC.
Togas in-house R&D center in Greece designed monochrome sets, models with original author's designs, classic models featuring damask, paisley, toile-de-jouy patterns. The color scheme is wide ranging — muted pastel, bright large prints, extraordinary black and white contrasts imitating Malevich's style. Linen with a 300 TC or higher is subject to double mercerization resulting in extra softness.
The application of a special technique of micro brushing the face side results in a delicate, slightly velvety Royal sateen. It is a buttery-soft material, ideally suited for people with sensitive skin.
Bed linen set PEONIA
Stripe sateen is a kind of sateen obtained by combining two complex weaving techniques, sateen and jacquard weave threads. This forms iridescent stripes made directly on the fabric, with the matte surface alternating with slightly glossy stripes. Striped sateen is increasingly popular due to the laconic design and the noble beauty of the material. Its stripes come in different widths, the same technique is applied to create other geometric patterns through the jacquard weaving.
Sateen types
| | |
| --- | --- |
| Royal sateen | Velvety face side after treatment |
| Stripe sateen | A combination of weaves, smooth sateen and jacquard weaving, produces stripes on fabric |
| Mako sateen | A dense fabric made of long-staple Egyptian cotton |
A line of models with the highest fabric density of 700 TC, the premium linen made of rare Pima cotton. It is the finest long-staple cotton that grows in the southern United States and Peru. It is harvested exclusively by hand, so as not to damage its delicate fibers, which are 50% longer than those of other cotton varieties. Pima cotton products have always been prized for their beauty and extra durability.
The "Pallada" collection from Togas offers monochrome linen with a unique density of 700 TC made of supreme and luxurious Pima cotton. Its classic style merges snow-white sateen with tasteful colorful borders on the pillowcases and duvet cover, the grace and nobility of design, and unstinted bespoke quality.
Cotton sateen properties
Advantages :
Soft to the touch. This silky linen is known for being uniquely comfortable to sleep on. Suitable for sensitive skin.
Eco-friendly, natural raw materials. Cotton sateen doesn't contain any synthetic additives, it is environmentally friendly and safe for kids.
The material provides excellent breathability and absorbs moisture, its linen is cool to sleep on even in hot weather. Cotton doesn't accumulate static electricity.
Strong and durable. Such bedding doesn't deform.
What about the downside to sateen weave? Well, we dare say they don't exist. Except for its relatively demanding price tag.
Care tips
Cotton isn't a high-maintenance fabric, even if you have sateen bedding. The fabric is easy to use, wash and iron. Hang your sateen washing on a drying rack so that you won't have to iron out as many wrinkles. Cotton sateen items must be washed at a maximum of 40 degrees to preserve its original look for a long time and prevent its colors from fading. Sturdy sateen linen doesn't deform and can survive 200-300 wash cycles. Avoid bleaching colored items.
If you appreciate the comfort and beauty of your bedroom interior, pay attention to sateen bedding sets. Such items look tasteful, similar to natural silk, yet they come at a more affordable price. And, of course, these soft, silky sheets provide unparalleled comfort for a deeper, restful sleep.