Loyality program
The privilege of loyal customers
You get a Togas Loyalty card and from then are entitled to the discounts accumulation system. Now it is entirely up to you. The number of purchases determines your customer status. All the purchases you make using the Card get combined. When the sum of your purchases allows you to upgrade to the next membership level, you get a new card – and new opportunities.
Special privileges for the members of Togas closed club:
Several times a year Togas organizes special events and sales available only for loyalty card holders.
The information on the dates of special events is made available for the loyalty card holders in advance.
Be the first to get:

- special discounts and exclusive deals;
- new ideas for your home;
- information about new collections and fresh items;
- new Togas and Couture Interiors catalogs;
- invitations and presentations, closed sales and previews of new collections.
How to become a loyal customer:
Just ask for the Customer Service Department of any Togas boutique, fill in the Form and get your card.
Also, you can register on the website togas.com
Togas loyalty card will be issued within a few minutes in your presence. The card can be used immediately after it is issued by an employee of the Customer Service Department and does not require any additional activation.
Togas loyalty card
Loyalty Program & Cards:
The cardholder will start with 5% discount and, once he or she accumulates the amount of purchases to bigger discount, the system will automatically change the card discount.
Level 1:
Level 2:
Level 3:
To learn about the current progress of accumulations in your Card, call Togas store at +9 714 320 07-73
The details of Togas loyalty program
1. The grounds for the development of this Policy by TOGAS
The general principles of the Policy cover all cases of receiving, storing, transferring, distributing and other types of processing information on individuals by TOGAS, which is referred to by the law as their personal data (any information that allows to identify his or her personality without additional data). Your personal data are treated by Togas as confidential, closely guarded information. The main goal of development and implementation of the Policy is to protect personal data against unauthorized access, disclosure, and illegal use.
2. The types of personal data requested from you by TOGAS
To meet the direct requirements of the law and establish efficient cooperation, we ask you to provide TOGAS with the minimally required information that allows to identify you in this or another situation. Depending on a certain task the following data in different combinations may be required: last name, name, patronymic, place of residence/ temporary residence, phone number , email address.
3. The reasons for providing your personal data at the request of TOGAS
The submitted personal data will allow us to provide the fastest possible communication with you, stay in touch for discussing your proposals and issues, carry out marketing research helping enhance the service level, improve the list of our services. The data you provide in electronic form through the website TOGAS will allow you to save time – get the fastest possible response to your request.
4. The application uses of your personal data in TOGAS
We use it when sending you mails and emails in response to your requests; We draw up a customer base and use your data for informing about service programs, advertising actions and sales, other TOGAS's campaigns as part of privilege service for loyal customers.
5. The protection measures for your personal data in TOGAS
To guarantee the protection of your personal data, TOGAS uses a whole range of corresponding measures. Personal information is stored in protected local networks that can be accessed only by a restricted number of people who have special rights and take responsibility for complying with confidentiality requirements. Despite these measures, when personal data are transferred via Internet channels is, they always run the risk of being intercepted by third parties, which cannot be thwarted by TOGAS due to lack of technical capability. TOGAS takes all the required measures for protecting your personal data but cannot give unconditional guarantees for the integrity of the information you make available via the Internet. TOGAS is aware of the responsibility for the protection of the information you are trusting with us and uses reliable and modern tools to protect it.
6. The general principles of transferring your personal data to third parties by TOGAS
We do not publish, sell, lease out or by any other means disclose your personal data to third parties if you have not given your consent and asked us for it.
Terms & Conditions
Terms & Conditions
The Togas Loyalty Program ("Program") sponsored by Togas Retail LLC. TOGAS reserves the right to modify, terminate, amend, limit, or otherwise change these Terms, benefits of the Program, conditions of participation in the Program, at its sole discretion, at any time during the Program.
Eligible individuals can enroll in the Program online at www.togas.com and/or at Togas Boutique located in Dubai. A valid email address is required to receive an invitation to become a member in the Program. Eligible individuals will be required to provide a valid email address, first and last name, phone number, birth month and day and a physical address to fully complete registration enrollment. Participant's personal information collected in connection with this Program will be used in accordance with Togas Privacy Policy, available at www.togas.com
There is a limit of one (1) enrollment registration identification number/membership account per person and per email address. Multiple registrations/membership accounts established by any person or e-mail address will be void. You may cancel your membership at any time by notifying Togas Customer Service at:+97143200773
The Program offers 4 tiers of core benefits- each corresponding to one type of membership card (White, Bronze, Silver, and Gold) as described on www.togas.com
The Program is a way in which we reward and thank our loyal customers for purchasing our products and/or taking other Program related actions. You are able to unlock Program loyalty tiers by making eligible purchases. Once you register for a certain loyalty tier, you may be eligible for certain benefits and rewards applicable to that tier, which benefits may change from time to time and may be offered on a limited basis.
By participating, participants agree (i) to these terms and conditions, togas.com's Terms of Use, and the Togas Privacy Policy and (ii) to the decisions of Togas, which are final and binding in all respects. A participant is responsible for updating his/her registration information. Participants understand by enrolling in the Program that they are agreeing to receive emails about the Program from Togas.
For further information about the Program and your membership, please contact:
Customer Service: +9 (714) 320 07-73
Sunday — Thirsday: 10am — 9pm
Friday: 3pm — 9pm
During Ramadan work hours can be changed.
or email us at: [email protected]
Gift-packaging service
How to make your gift special, unique and memorable? Purchase in the Togas on-line store or Togas boutique and use our gift-wrapping service.
We will be happy to supply your gift with a greeting card and deliver the order to the specified shipping address or your shipping address. Just tick the "add gift options" box when making an online purchase - or contact our store manager when placing an order by calling +971 4 320 0773.
There is a wide selection of branded gift packages: we will pick up a box of the desired shape and size depending on the volume of the order and the type of the purchase. If you have ordered several items, you will need an appropriate number of packages.
Please note that some items, such as pillows, blankets, mattress covers, curtains, and bedspreads, can not be placed in a gift box due to the impressive size or significant volume. Therefore, we supply these items in durable, attractive cases and bags that meet the highest quality standards. This package for sure can be called a gift packaging.
We wish you a pleasant shopping!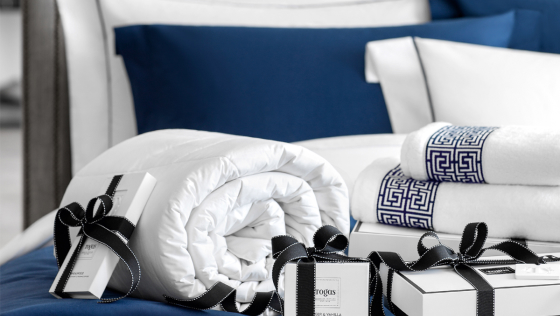 Privacy policy
By using the Site, you are accepting the practices described in this Policy and accept its terms. You also give your express permission for us to collect, process, store, and use Information in accordance with this Policy.

Togas Middle East LLC, is a Limited Liability Company based on Umm Suqeim Road, Al-Barsha No3, Dubai. Togas reserves the right to modify or amend this Policy at any time, but should it be necessary to do so, will notify you of any material changes to this Policy by posting such changes at the Site. Each version of the Policy is identified at the bottom of the page by its effective date. Your continued use of the Site after changes have been posted constitutes your acceptance of the Policy as amended. If you do not agree to the changes, please do not use the Site.
Data about your activity while here on this site is automatically provided to TOGAS.
You are responsible for the content of the Provided Information and you must ensure it is legal, honest, truthful, accurate and not misleading in any way. You must ensure that the Provided Information provided by you does not infringe on any rights of any third party (including, without limitation, rights of confidentiality), or is otherwise legally actionable by such third party.
Use of the Site is entirely voluntary. Submission of Provided Information does not establish any obligation not listed in this Policy.
For example, we collect the e-mail addresses of visitors and customers who click on Togas.com marketing links or those who register online at our website; we collect aggregate information on what pages consumers access or visit, how many visits we get, and information such as where visitors arrived from as far as other sites on the Internet or if they directly typed our website address into their browser. E-mail addresses we collect are only used to transmit promotional e-mail offers to those customers and visitors who voluntarily agree to receive such promotional material from us or to send information about customer transactions. Your e-mail address will never be sold or shared for marketing purposes.
If you would prefer not to receive such e-mails, please click on the unsubscribe link found at the bottom of your emails.
Cookies & Other Technologies
A cookie is a small file containing a string of characters that may be sent to your web browser when you visit a website. Cookies might be used for the following purposes: (1) to enable certain functions; (2) to provide analytics; (3) to store your preferences; and (4) to enable ad delivery and behavioral advertising.
Cookies can either be session cookies or persistent cookies. A session cookie expires automatically when you close your browser. A persistent cookie will remain until it expires or you delete your cookies. Expiration dates are set in the cookies themselves; some may expire after a few minutes while others may expire after multiple years. Cookies placed by the website you're visiting are sometimes called "first party cookies," while cookies placed by other companies are sometimes called "third party cookies."
The Site uses cookies that are set by us or our third party services. You can reset your browser to refuse cookies or to indicate when a cookie is being sent. However, some features or services of the Site may not function properly without enabling cookies. We may also use additional technologies to help track user activities and preferences.
The following Information may automatically be received and/or collected from you through the Site: IP address, browser type, browser language, internet service provider (ISP), resource requested, date and time of resource request, and HTTP referring resource (if provided by the browser), operating system, and/or clickstream data. We aggregate this data, and may combine this data with other information we collect about you to better understand how visitors use our site, improving user experience, and to help manage, maintain, and report on use of our website. We also store IP addresses for fraud detection and prevention purposes.
Behavioral Advertising / Re-Targeting
We partner with third parties to display advertising on our Site and manage our advertising on other sites. Our third party partners may use technologies such as cookies to gather information about your activities on our Site and other sites in order to provide you advertising based upon your browsing activities and interests. If you wish to not have this information used for the purpose of serving you interest-based ads, you may opt-out by clicking here). Please note this does not opt you out of being served advertisements. You will continue to receive generic advertisements.
Social Media
The Site include social media features and links, and may use social media application programming interfaces ("APIs") for log-in. The social networking site may collect certain information about you. Please see the privacy policy for the applicable social networking site to learn more about how these social networking sites share your personal information, which practices may differ from ours.
Purposes of information collection, processing, and/or use
We use Information to provide you with a superior experience and, as necessary, to administer our Company. We use your Information in the following ways:
Provide you with functionality of the Site;
Administer and manage the Company;
Provide client service and/or marketing products or services;
Conduct research and perform analysis to measure, maintain, protect, develop, and improve our products or services;
Administer, enhance, and communicate with you regarding the Company's events, marketing, and advertising; and/or
Make communications necessary to notify you regarding order confirmations, products, services, market research, requests, marketing, security, privacy, and administrative issues.
Retention of information
We retain Information as long as needed and in accordance with any applicable laws. We will retain and use Information as necessary as long as your account is active, it was reasonably useful for commercial purposes, and/or to comply with our legal obligations, resolve disputes, and enforce our agreements.
Information sharing
We may share Information as follows or as otherwise described in this Policy:
With suppliers, business partners, vendors, consultants and other service providers, subsidiaries, and affiliates who need access to such information to carry out work on our behalf relating to the Site: website operation/hosting or information technology consulting services; website management; data analysis; fraud protection; product customization; customer service, marketing and promotions; data cleansing (if applicable); legal services; and other administrative and back-up and security services. These third parties do not have the right to use Information we provide them in any way that is not authorized by us or otherwise disclosed in their privacy policies.
In response to a request for information if disclosure is required in accordance with any applicable law, regulation or legal process, or is otherwise required or permitted by any applicable law, rule or regulation.
To comply with any legal obligation.
To protect the rights, property, or safety of the Company and others, and/or investigate fraud.
With others with your consent or at your direction, including if we notify you that the information you provide will be shared in a particular manner and you provide such information.
Information storage
All Information, except email, credit card information, and social media log-in is stored on databases and/or servers that are operated by our company.
Email information is stored on databases and/or servers that are operated by our company.
Credit card information is not stored by processed and stored by our payment processors.
Social media log-in information is not stored by B&B. It may be stored by the specific social media site for which it is intended.
Not intended for international use
The Site, Togas.com/AE is intended for use within the UAE, and is not intended to be used in any other territory. The Site may function in countries other than UAE. If you use the Site from outside UAE, you explicitly accept that your Information may be transferred to, stored, and processed in UAE where laws regarding processing of personal information may differ than the laws of other countries. You are responsible for compliance with the laws of the jurisdiction in which you choose to use the Site.
You agree not to use the Site in any way that is in violation of the law of any country or jurisdiction. You further agree not to use the Site from a territory that is embargoed by UAE or from which it is illegal to receive products or services from UAE.
Security
The Company takes appropriate security measures to secure Information. For example, access to databases are password protected and restricted to technical users with authorized credentials and personnel on a need-to-know basis. Note that the transmission of information via the internet is not completely secure. Although we will do our best to protect Information, we cannot guarantee the security of Information transmitted through the Site.
Age of consent
By using this site, you represent that you are at least the age of majority in your state or province of residence, or that you are the age of majority in your state or province of residence and you have given us your consent to allow any of your minor dependents to use this site.
Individuals under the age of 18 are not permitted to use the Site without the supervision of a parent or legal guardian.
Links to other websites
The Site may contain links to other websites of interest. Once you have used these links to leave our site, you should note that we do not have any control over other websites. Therefore, we will not be responsible for the protection and privacy of any information you provide whilst visiting such other websites and such sites are not governed by this Policy. You should exercise caution and look at the privacy policy applicable to the website in question.
Contact
Questions and requests related to this Policy may be directed to the postal address listed below, at the following email address: [email protected]
We are here to answer your questions:
Customer Service: +97143200773
Sunday–Thirsday: 10am–9pm
Friday: 3pm–9pm
or email us at: [email protected]
Policy Effective: January 30, 2021
Last Updated: January 20, 2021
Delivery and returns
We deliver to all areas across the United Arab Emirates:
Orders above 500 AED qualify for free shipping for deliveries in Dubai, Sharjah & Ajman.
Orders above 1000 AED qualify for free shipping for deliveries in all Emirates.
In case your order does not exceed the above amounts, the delivery charge of 35 AED will apply.
We deliver to all countries in Middle East.
The delivery charge of 150AED will apply for deliveries outside UAE.
Order deliveries take place on the next working day after the order submission for Dubai, Sharjah & Ajman.
Order deliveries take place on 2nd or 3rd working day after the order submission for other Emirates.
Orders placed outside of working hours (10am-9pm), after the cut-off time and/or during any UAE public holiday will be deemed placed on the first UAE working day following the Order's submission.
Order delivery may face delays during promotional activity, sale season— during this time next-day delivery may not be available. We reserve the right to impose a re-delivery charge where your Order is not accepted at the address supplied to us on the confirmed date of delivery.
We want you to be completely satisfied with your order. If for any reason, you are not happy, we will gladly accept your timely 2 weeks of return of unwashed, eligible items or defective merchandise. Washed or used products cannot be returned.
Returned merchandise should include our packaging and tags and be in the same condition as when it was received. Used merchandise cannot be returned unless defective. A pickup and/or restock fee may apply.
On the back of the packing slip enclosed with your order, please note the reason(s) for return and whether you wish to exchange the item(s) or receive a credit/refund (depending on the original form of payment). Please be sure to enclose the return section of the packing slip with your item(s).
No returns offered on custom orders, cut yardages, sleeping pillows and duvet inserts.
You may be able to cancel any Togas order as long as the order status is "in process". If order status is "shipped", it cannot be cancelled. A pickup and/or restock fee may apply.
Items that are advertised "as is," "discontinued item," "clearance" are final sale and cannot be returned, exchanged or refunded.exchanged or refunded.
Personalized and monogrammed orders cannot be cancelled or returned.
Exchanges are free* and returns will be refunded in the original method of payment.
To initiate an exchange or a return, please send an email to [email protected] that includes your order number (starts with #.....), the condition of your merchandise, and reason for return.
If you have any questions or need assistance in returning furniture, call +97143200773.
*Shipping & Handling fees may apply.