18 November 2022
Reading time: 3 min
6 views
World Children's Day. Designing a kid's room.
23 November 2022
Reading time: 3 min
6 views
World Children's Day is celebrated on 20 November each year. On this day the Convention on the Rights of the Child was adopted, recognizing that the child should grow up in a family environment, in an atmosphere of happiness, love and understanding. Ahead of this holiday, let's see how to design a boy's room to expose him to an environment of harmonious development.
The decor in your kid's room is supposed to easily grow with its inhabitant, morphing from a cloud of light fabrics and soft blue hues of baby's interior into a space filled with bright toys, lego robots, objects and linen with "Star Wars" characters. And then — into a more adult, teen-friendy interior.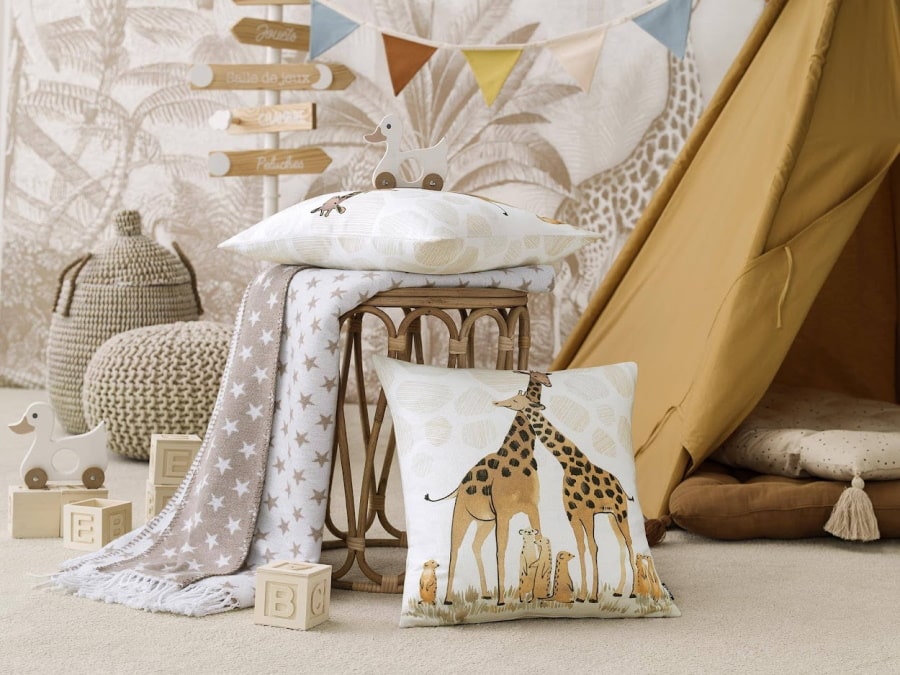 Boys
Preschoolers and primary school kids definitely need a fun play space. There will be lots of toys around so you need to come up with a decent storage solution. You can place a few roomy drawers with lids or deep baskets. A more handy alternative will be a shelving unit with lots of shelves, preferably closed, so that the chaos of cars, lego parts, robots and other kid's trinkets remains hidden behind the doors. And if you have space to spare, how about a climbing wall or sports corner to feed plenty of child's vibrant energy?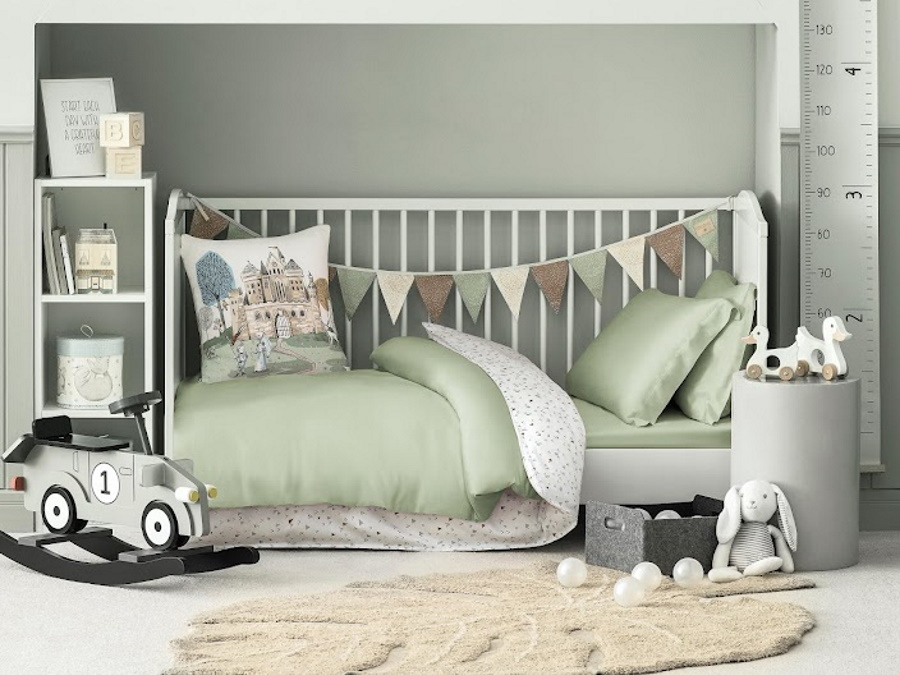 You also need to fit a study spot dash an art nook to sit together. A comfy table should be placed at the window, while the bed — in a space furthest from the sun rays to ensure a healthy and calm sleep.
Let the kid's decor foster play and exploration with original colorful furniture and thematic fabrics like curtains featuring cars or a car-shaped bed. Textile items in this room can reflect your child's interests and hobbies.
Brave knights, castles, dragons and princesses — a fairy tale mood is easily created by a cotton sateen bedding set "Kassler". A pair of "Kassler" accent pillows easily complement the magical theme. They depict a castle, a dragon with a princess, and a brave prince who saves her.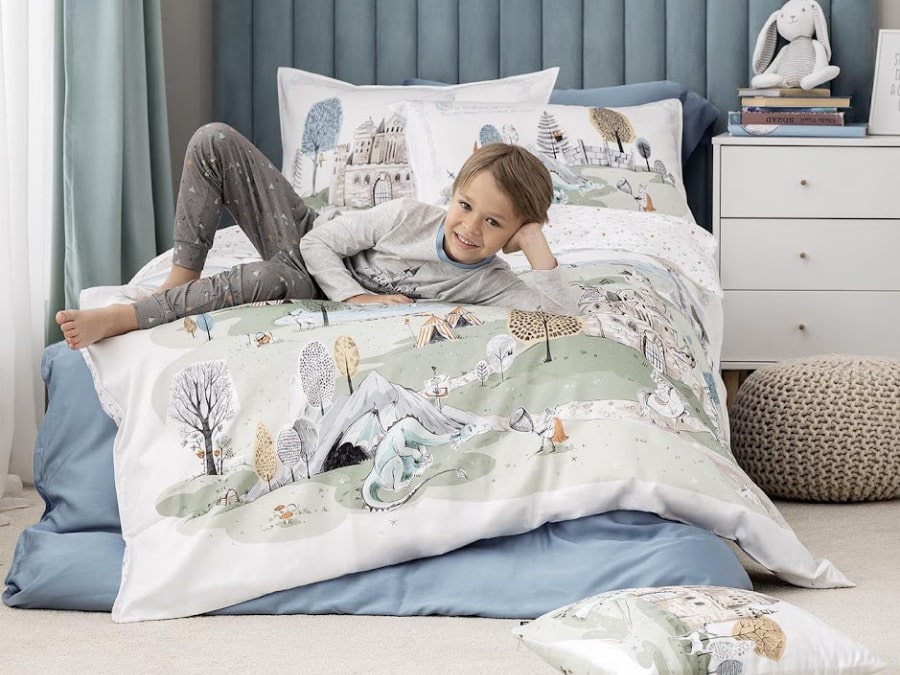 Teenagers
The design of a teenager's room is quite a different story. His room matures as it gets stripped of bright prints featuring characters from animation movies, car-shaped bed or pirates themed loft bed, bed linen in punchy colors and childish patterns. The tones in the room change as your kid ages, it may develop neutral men's colors and interior accessories. Or, on the contrary, you may see something splashy, outright rebellious, clashing and throwing patterns. Be ready to meet posters on walls, darts, skates, guitars and even a drum set may dominate the room.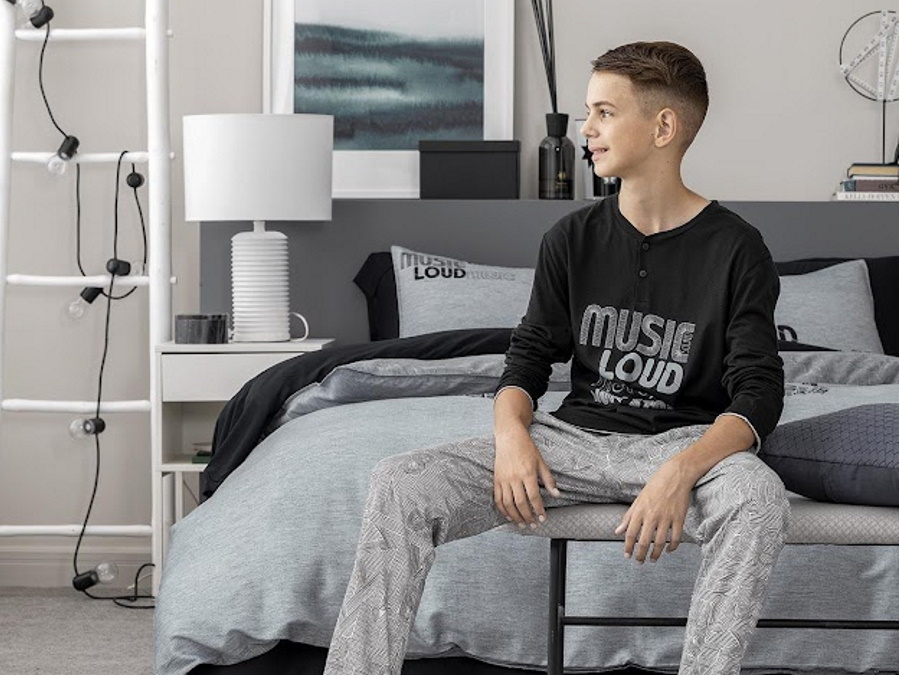 And if you're looking for an ideal addition to this environment, the bedding set "Flint" features a camouflage pattern in shades of sea blue. This design evokes sea battles and will appeal to teenagers with their thirst for thrills and adventures.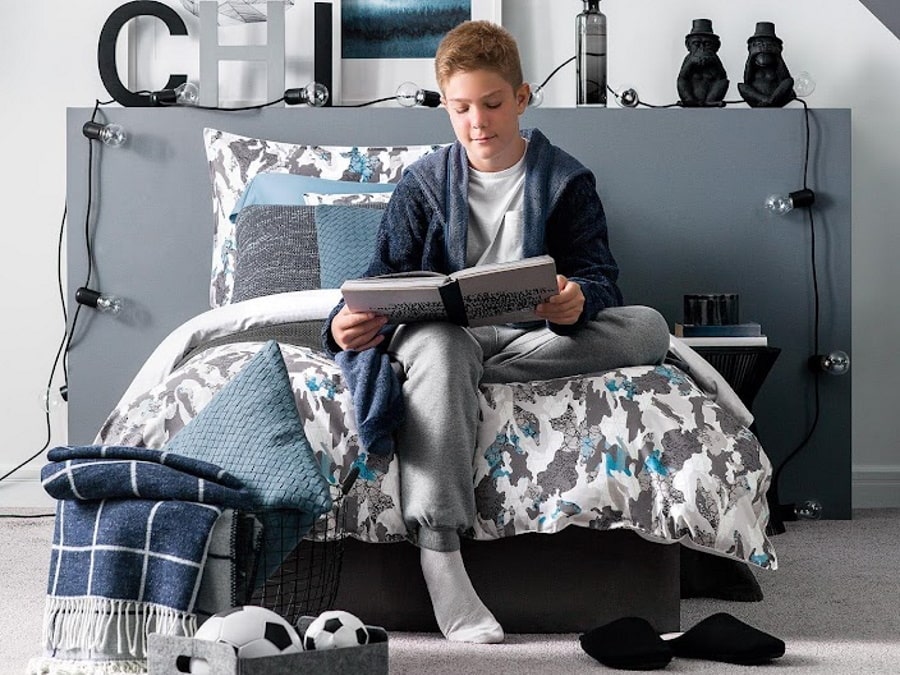 Here's a practical tip: stick to neutral colors when designing a teenager's room that play well with bright details: posters, original youthful fabrics (Marvel inspired bedding or featuring smart slogans) or unusual light fixtures (like a steering wheel light or a lamp styled as an intricate clock mechanism). Your teenager's hobbies may change fleetingly and to avoid repairs in his room, just add a couple of novel accessories, poster of shades.
When it comes to designing your kid's room, make sure you get him to pick out colors and redecorations. Create a positive environment for him, making it a fun playful space for meeting friends, yet the one that would empower him to grow and pursue his dreams.